Photo by Mark Larson
Shoshanna Rose (right), of Arcata, helped cut and serve the Creamery Building replica cake that building owners Lisa and Brian Finigan, of Arcata, brought to share with Fervor Fest attendees.
It took four days to celebrate the 100th anniversary of the Creamery Building in Arcata this past week. Building owners Lisa and Brian Finigan, of Arcata, have spent the last 40 years rejuvenating the building and hosting an eclectic mix of tenants in the center of the emerging Creamery District — so they and friends decided to throw a party.
Arcata artist Lush Newton introduced her outdoor art installation "Golden State Creamery: The Land of Milk and Honey" at Thursday's evening reception at the Creamery District. She said her work commemorates the history, people and culture surrounding the historic Creamery building on its 100th anniversary. The billboard was inspired by designs for the original tenant, California Creameries, and her portable hand-painted figures were based on historical photos (including one of her great aunt riding a cow).
Friday evening's highlights were the Arcata Playhouse's outdoor shadow-puppet show that followed the Elemental Spectacle procession that included dancers, stilt walkers, giant puppets and a large dragon marching around the Creamery Building to live music. The Ya Habibi dancers performed next at the entrance of the Creamery prior to the shadow-puppet show.
More than 20 vendors offered unlimited samples of beer, wine, kombucha, cider and distilled spirits at Fervor Fest on Saturday. A large crowd attended the family-friendly event that included live music, food vendors and a popular children's play area. In mid-afternoon, the Finigans brought out the 100th anniversary cake shaped liked the Creamery building to share with Fervor Fest attendees.
The Creamery Festival wrapped up on Sunday with the last of the Flynn Creek Circus shows.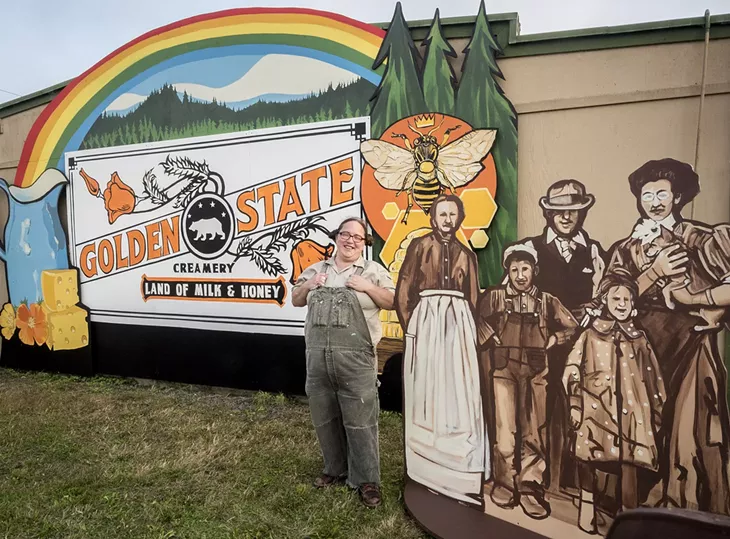 17 slides