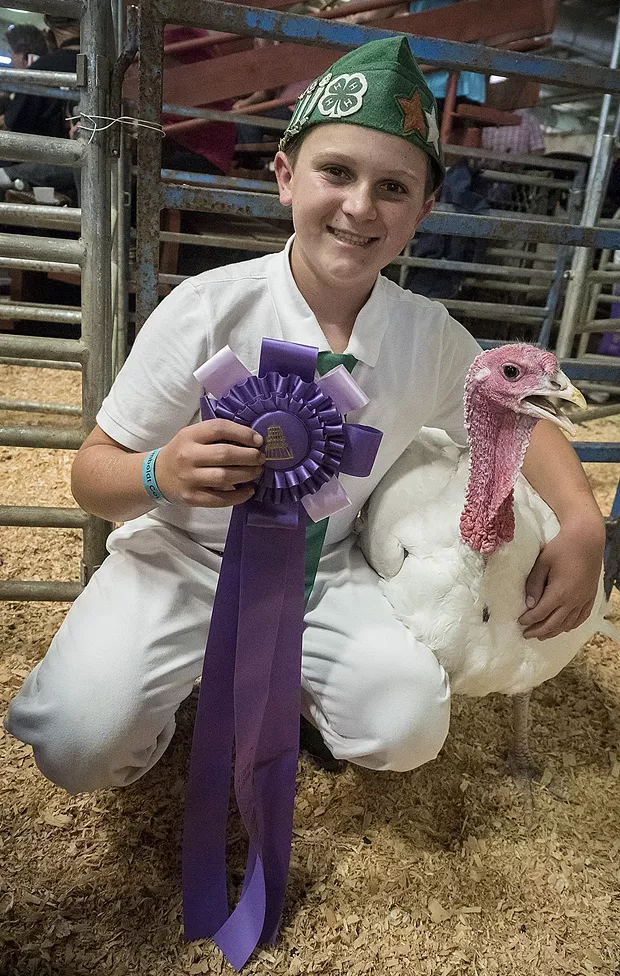 Photo by Mark Larson
Rylan Lommori, of the Hydesville 4-H club, with his Grand Champion turkey.
On an unusually hot, sunny day on Sunday in Ferndale at the Humboldt County Fair, the Junior Livestock Auction attracted a large crowd of willing and generous bidders on the well-fed and well-cared-for animals and birds offered for sale by 250 local young 4-H and Future Farmers of America exhibitors. Many individuals and businesses responded eagerly to the auctioneer, and the bids for the "champion" level animals and birds often far exceeded the current market price.
And very quickly, a year's worth of time and commitment was over for the 4-H and F.F.A. members, as their animals and birds were sold to the highest bidder — a moment of mixed emotions of pride and sadness for many of the young people.
Sunday's Hispanic Heritage Day at the fair also featured live music by Grupo Nueva Ilusion, the ongoing horse races, the acrobatic Chicago Boyz, the Cortez Aerial Show, midway rides, exhibits, vendors and art and craft exhibits.
The fair continues through Monday, Sept. 4. See the Fair schedule
here
and enjoy highlights from Sunday below.
18 slides