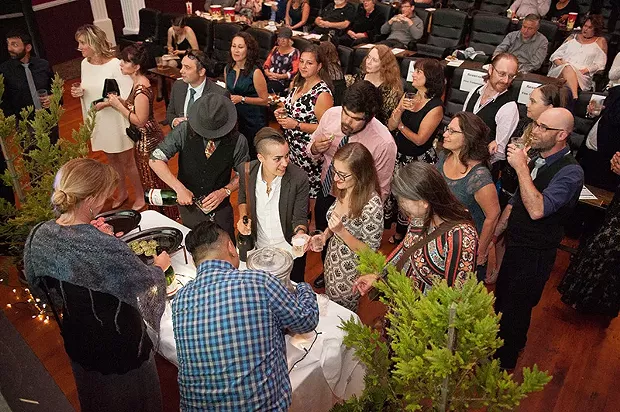 Photo by Mark McKenna
The crowd bellies up to the bar before the special screening of Woodshock.
On the evening of Saturday, Sept. 9, the line for the red-carpet special screening of
Woodshock
at the Minor Theatre wrapped around the block. The Humboldt-Del Norte Film Commission and Minor Theatre co-hosted the catered event for the locals — scouts, transportation crew, extras and more — who participated in the film's five weeks of shooting around Humboldt County. The trippy film, starring Kirsten Dunst as a grieving woman having drug-induced hallucinations against our strange and beautiful landscape, was produced by A24 and directed by Rodarte designers Kate and Laura Mulleavy. The unsurprisingly strange, stylish result had the crowd joyfully spotting familiar locations, but you'll have to wait for the official release on Sept. 22 for a formal review.
Mark McKenna was there to photograph the crowd in its finery. See the slideshow below for highlights of the evening.
16 slides