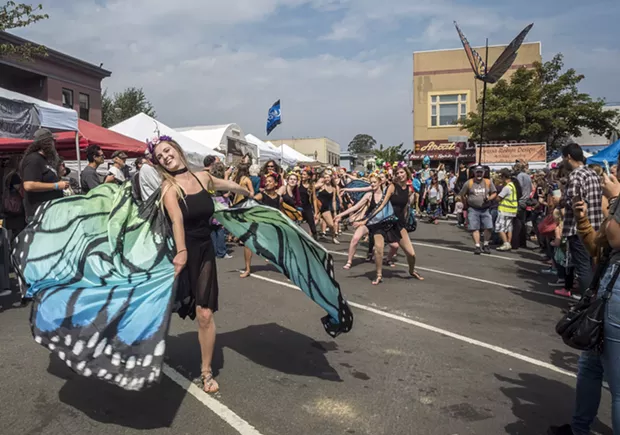 Photo by Mark Larson
Butterflies fluttered by in the parade courtesy of Trillium Dance Studio.
Event organizers Same Old People were surrounded by a large crowd attending the first day of the 44th annual North Country Fair held on the Arcata Plaza on Saturday — with just one big change in tradition. The Northcoast Environmental Center's All Species Parade swapped days with the Samba Parade, surprising a lot of attendees who hadn't heard about the change. See the slideshow below for highlights of Saturday's festivities.
The parade attracted the usual mix of young and old in many varieties of species costumes, as well as butterfly dancers, stilt walkers, giant puppets and one large log carried by members of the Pacific Alliance for Indigenous and Environmental Action (PAIEA), who were demonstrating their Log Walk to Heal the Forest.
Under Saturday's perfect weather, the fair featured 14 live performances of music, Zumba, belly dancers, martial artists and the Arcata Interfaith Gospel Choir at three locations. More than 200 vendors offered food, drink, clothing, arts and crafts, and tie-dyed clothing.
14 slides