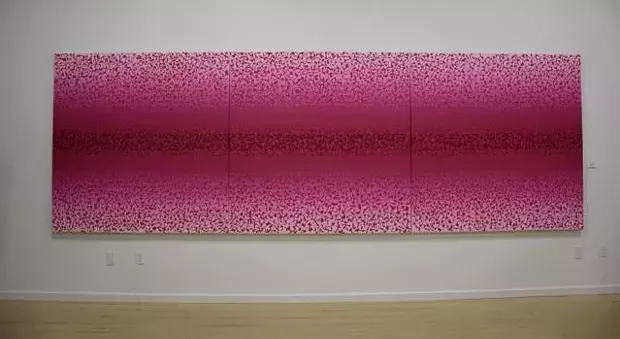 Jennifer Fumiko Cahill
Oguchi Marshall's "Red Triptych."
The Black Faun Gallery was awash in color on Friday evening when it hosted a private opening for paintings by Orr Marshall and Fukiko Oguchi Marshall. Old friends of the couple and friends of the gallery, which was celebrating its one-year anniversary in the spot, milled past bright canvases with plastic champagne coupes. They clustered in front of the paintings and around the platters of sushi, murmuring, "I had no idea."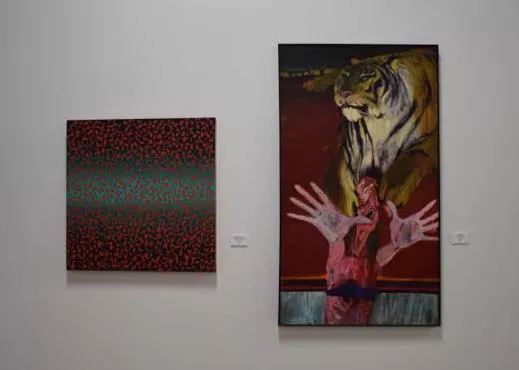 Jennifer Fumiko Cahill
Left, Oguchi Marshall's "Tomato Juice Blues" and Orr Marshall's "Tiger Dream."
Marshall's early jewel-toned oils are a surprise, to be sure, but Oguchi Marshall's vibrant acrylic paintings with their dense patterns of amoeba-like shapes were a downright shock, even to close friends. Few even knew she painted. Oguchi Marshall, best known as the Japanese restauranteur who established Tomo, Hana and Sushi Spot, started out as a painter when she first came to the U.S. in 1963. In fact, she and Marshall met at the California College of Arts and Crafts, where she was working on a degree and he was teaching, and married in 1968. It was shortly after that she says she realized "art isn't really my thing."
"Orr is a real artist," she says, pressing her eyes closed. "Orr is born as an artist," whereas she found she was "more interested in cooking, in taking care of people."
Marshall puts it another way, saying cooking is part of Oguchi's "gesamptkunstwerk," a body of work that encompasses a number of mediums. A toast is starting and Oguchi Marshall takes his arm to help him shuffle toward the center of the gallery, but he keeps talking. "I'm always amazed at her because she can do so many things," he says.
Jennifer Fumiko Cahill
Visitors mingle in front of Orr Marshall's early work.
When Marshall began talking with the gallery about a show, he was concerned there wasn't much in his recent catalog that people hadn't seen elsewhere. So he brought out early work from the 1960s, drawings and oil paintings with looser, faster brushwork that contrast with his more recent meticulous images. Marshall also suggested his wife join the show with her work from the same period and says she initially hesitated but changed her mind.
Jennifer Fumiko Cahill
Orr Marshall and Fukiko Oguchi Marshall.
And now Oguchi Marshall is ready to jump back in. "Now I'm completely retired so I'm gonna do some painting," she says. Standing in the glow of her enormous pink ombre triptych, which stretches across nearly an entire wall of the gallery, she says she's already planning a painting. "I already have the title: 'Dancing Tulips.'" She says she spent days photographing a bouquet of tulips a friend gave her, fascinated by their gradual movement. "So like human beings," she says.
Black Faun Gallery shows
The Unseen Works
through October.