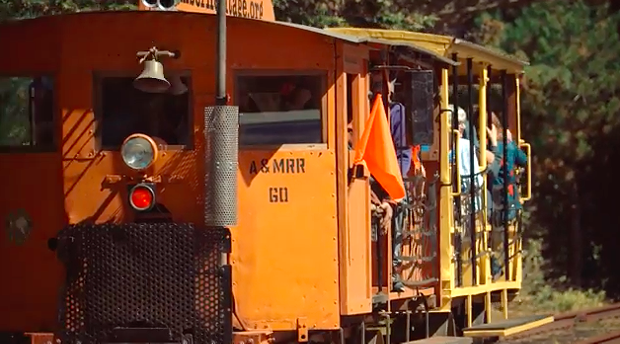 Timber Heritage Association video
A speeder car on the tracks by the Samoa roundhouse.
Everybody loves trains. OK, maybe not packed commuter trains. But if you aren't charmed by the cow catchers on black locomotives or Orient Express-style dining cars from the turn of the century, we can't hang out. The volunteers of the
Timber Heritage Association
are out at the Roundhouse in Samoa most weekends restoring regal and rusty beauties for posterity. And occasionally, like this weekend, the overalled rail enthusiasts offer rides on the bright orange and yellow speeder cars that once moved loggers in and out of the woods.
Tomorrow, the Timber Heritage Association will make its final speeder runs of the season at the Loleta Antique Show at the Fireman's Pavilion with rides on the open orange cars from the park and over the trestle from 10 a.m. to 4 p.m. ($8, $7 seniors, $4 kids 3-10, free to kids 2 and under). Take a gander at the video below, shot by Zero Kazama, to see the roundhouse trains and the speeder cars in all their glory.