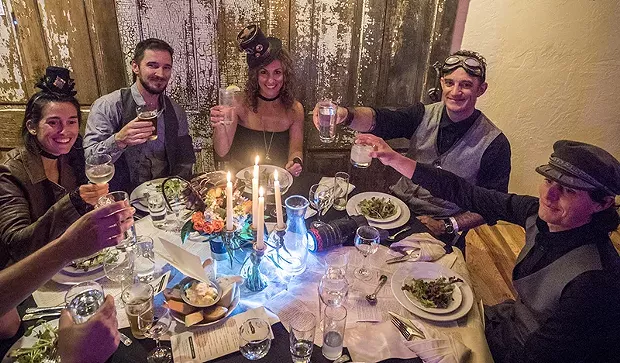 Photo by Mark Larson
A table of guests at the Fall Splendor event toasts in their steampunk finery.
The transplanted location appeared to not be a problem for the eighth annual Fall Splendor Fashion Show Fundraiser for the Southern Humboldt Community Park as it attracted a packed house to the Inn at 2nd & C in Eureka on Saturday evening. In previous years, the event took place at the Mateel Community Center.
Dressed in steampunk and fantasy costumes that ran the gamut from Jules Verne to
Mad Max
to
Game of Thrones
attire, many long-time attendees from Southern Humboldt were joined by first-timers from Eureka and elsewhere. Check out the slideshow below for highlights of the anachronistic stylings.
The Renaissance feast was followed by performances by a juggler, acrobat, aerial-silk dancer, magician and live music after the Costume Fashion and Trashion Show and auction.
20 slides