Jennifer Fumiko Cahill
Micki Dyson Flatmo in her studio.
Micki Dyson-Flatmo was never a political artist. But now her backyard studio in Eureka is crowded with dressmaker's dummies swathed in tulle, metal and plastic — wearable expressions of life in the Trump era. Her show
Dating Chaos: What to Wear
opens at the Morris Graves Museum of Art this weekend, combining costuming and abstract paintings that grapple with the 2016 presidential election and its aftermath.
When Dyson Flatmo originally proposed the show, her concept was looser — paintings and costumes in dialogue about the chaos that is always waiting for us at the edge of our routine lives and the illusion of permanence. For years she'd sewn/built costumes to wear during the annual trek to Burning Man with her husband, Duane Flatmo, of
giant flaming metal octopus
fame. After all, she says with a grin, "You have to hold your own."
Jennifer Fumiko Cahill
The headpiece to "Your Bloody Idealism."
It seemed time to explore that medium further, as well as her recent foray into abstract painting. "I've been a painter for 40 years," she says. "That's not new." As much as she enjoyed representational painting — and what do her dreamy, color saturated figures speak to if not pleasure — it felt like time to make a more direct statement. Abstract paintings, like the stormy, gray-toned pieces she's showing this month, all hard angles and slashing brushstrokes, gave her that directness. She shrugs and says she's "at least caught up to the 1950s."
She's speaking directly in terms of politics, too, despite a lifetime of hesitating to tell people what to think. Now, she says, "I'm telling them what I think." The election of Donald Trump after his casual remarks about sexual assault and women in general, as well as his racially and culturally divisive policies, all pushed her to "join the people who are speaking out." It's an artist's job, she says, "giving other people a way to identify what they're feeling ... [to say] how it felt to me."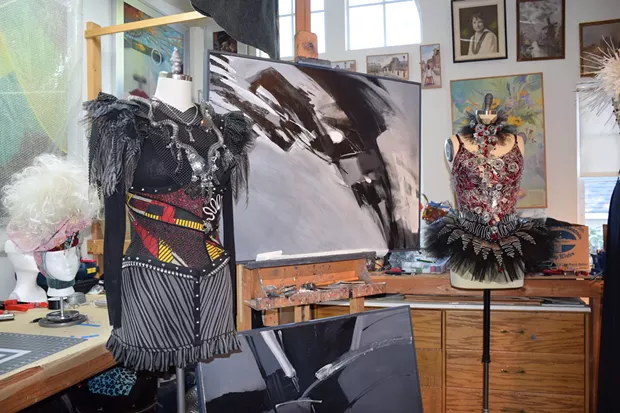 Jennifer Fumiko Cahill
Left, "Resist," which is to be worn with a metal helmet. Right and center, "Your Bloody Idealism" and its accompanying painting.
The costumes in the show are all wearable, with elastic foundations and silhouettes that range from gowns to dancewear to armor, each a balance of self protection and openness. A long dress split into two colors, "The Tyranny of Conventional Wisdom," plays with the idea of tribalism in a divided society, while a red and black tutu encrusted with ruby-red beads and coils of wire, "Your Bloody Idealism," conjures up the image of a wounded bird, complete with a headpiece adorned with a wire nest exploding into feathers and red droplets. There is a warrior getup, too, and a candy pink bustier — a wardrobe running a gamut of reactions from the militant to the conciliatory.
Jennifer Fumiko Cahill
Dyson Flatmo's thorny "First Date: Wasn't Expecting This."
A black and white bustier surrounded by a spray of white tulle, metal hosing and shards of white plastic is titled "First Date: Wasn't Expecting This." It was the first piece Dyson Flatmo made for the show, begun before it took on its political cast. She says it speaks to a young woman's naiveté giving way to the reality of death. "All of us are dating chaos all the time," she says. "We're always holding its hand."
There will be an opening reception for
Dating Chaos: What to Wear
during Arts Alive! on Saturday, Nov. 4 at 6 p.m. at the Morris Graves Museum of Art. But you might want to revisit the show during December Arts Alive!, when some Burning Man cohorts will be attending in costume.