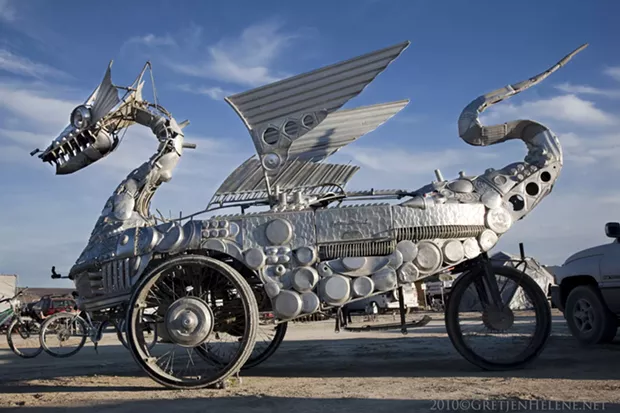 Photo by Gretjen Helene courtesy of Duane Flatmo
Artist Duane Flatmo's "Tin Pan Dragon" will soon be heading to D.C.
How do you pack a giant, flaming scrap-metal monster on wheels? Artist and Burning Man regular Duane Flatmo has done it plenty of times with his iconic fire-spouting octopus "El Pulpo Mecanico." But now he's shipping the fiery dragon he built in 2009 to the Smithsonian in Washington, D.C.
The museum will display the gleaming beastie along with work by other artists in its March 2018 exhibition
No Spectators: The Art of Burning Man
. The sculpture leaves Eureka in pieces in December, though Flatmo won't be assembling it for its six-month residency at the Renwick Gallery until February of 2018. Unlike the massive "El Pulpo" or the more recent pile of toothy creatures on wheels "Rabid Transit," Flatmo's first pyrotechnic kinetic sculpture "Tin Pan Dragon" will fit in the gallery space. Video of those other pieces in action will play during the exhibition but evidently you can't fire up a monstrous cephalopod that close to the White House. Go figure.
For now, Flatmo is polishing the roughly 15-foot-long dragon with a wire brush and chopping the wings and head off to fit into a custom crate that will be stacked onto an 18-wheeler with some five or six other machines.
"They cover all your expenses, but you need to pay it out," says Flatmo with a low chuckle, adding that the government paperwork alone is a daunting task. And at least he's not alone, as he notes, "I'll have my friends down here helping me put it in a crate." Other installations will be created on site at the Smithsonian by artists like Michael Garlington and Natalia Bertotti, whose structures are burned at the annual festival held in Nevada's Black Rock Desert.
Flatmo says his years participating in the Kinetic Grand Championship "really prepared me to go do this bigger stuff." He adds that he's excited the Smithsonian wants to show "this thing that was born in Humboldt County out of pie tins and scraps."