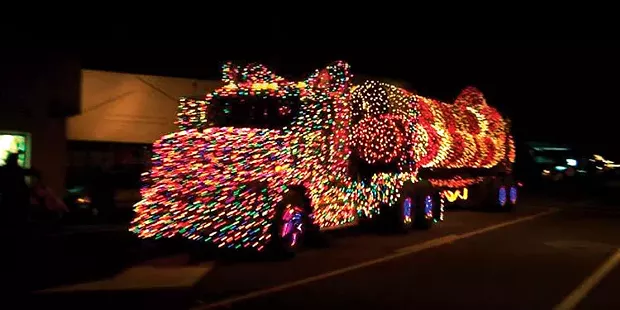 File
Christmas Truckers Parade
The holidays are trucking along, and keeping pace with them are two local lighted parades, North Coast holiday traditions for decades. First in line is the Al Gray Electric Lighted Truck Parade in Fortuna, happening Friday, Dec. 8 at 6:30 p.m. at the Redwood Village Shopping Center (free). All manner of mobile participants from trucks to boats to tractors to folks on foot will parade down Main Street to the delight of the crowd. Also happening Friday night is the Downtown Business Association's Winter Wonderland Open House, where shops will be open late serving up hot cocoa, cider, holiday treats and shopping specials.
Honk, the Herald big rigs sing! It's the KEKA Christmas Truckers Parade, happening as it does every second Saturday in December, Saturday, Dec. 9 starting at 6 p.m. at Redwood Acres Fairgrounds (free). The convoy leaves Redwood Acres at 6 p.m., heads down Harris Street, then down I Street, turning right on Seventh Street, chugging along Myrtle Ave before winding up where it started at Redwood Acres. Grab your spot along the route to see traveling bandstands, dancing holiday characters waving from truck beds and super-bedecked 18 wheelers. Take our word for it. These rigs are strung. And who in Whoville doesn't love the monotone honk of "Jingle Bells" blasting out across the crowd as truckers pull their horns? Bring your earplugs, lawn chairs, child-like sense of wonder and umbrellas. This one takes twinkles rain or shine.