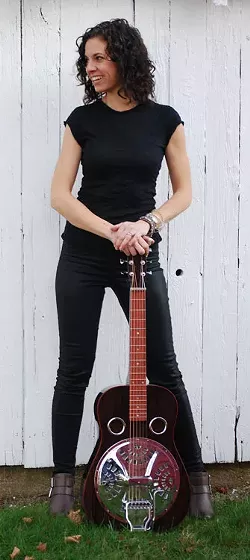 Photo by Brenda Wirth, courtesy of the artist
Abbie Gardner
Abbie Gardner is a woman of many talents. As one third of the all-female folk trio Red Molly (named after a character in Richard Thompson's magnificent song "1952 Vincent Black Lightning"), she pulls off vocal duties while deftly picking out melodies on her dobro and is known for her acoustic guitar and lap steel work as well. She is a truly gifted player with a clear and beautiful voice and when she takes the stage at the Arcata Playhouse tonight at 8 p.m., expect a set of folk and country songs done just right ($15).
Meanwhile, over in Blue Lake, The Logger Bar hosts Nevada City's own honky tonk queen Angelica Rockne and her five piece band of country gentlemen at 10 p.m. This show is about as close as you can get to one of those diamond-in-the-rough, rose-in-the-compost roadhouse evenings from yesteryear and below the Mason-Dixon line without having to leave our beautiful county, get pie eyed on Billy Beer and pick your teeth out of the chicken wire fence protecting the stage from errant bottles. Blue Lake's own bluegrass picker and guitar master Turtle Goodwater opens. Free.