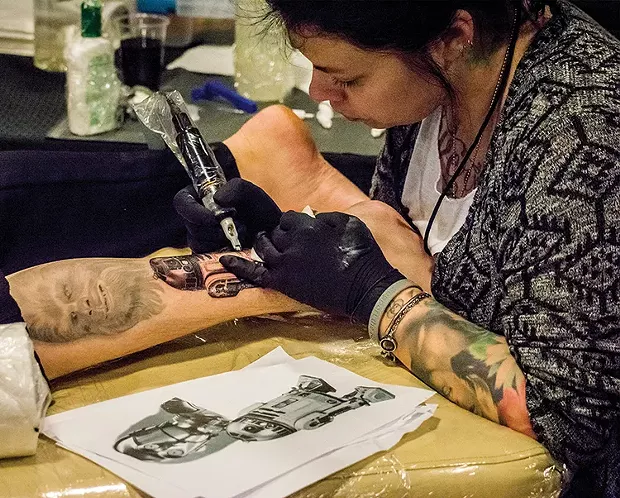 Photo by Mark Larson
R2-D2 tattoo
If the sound of tattoo guns buzzing gets your blood pumping, grit your teeth for the adrenaline rush of the Inked Hearts Tattoo Expo, four days of tattoos, contests, vendors and shows happening Feb. 1-4 at Blue Lake Casino from 11 a.m.-10 p.m. Feb. 1-3 and 11 a.m.-6 p.m. on Feb. 4 ($10 daily entry, $30 all-event pass).
Hosts Ted and Amy Marks of Nor Cal Tattoo are bringing all the big guns back this year, plus some talented up-and-comers. So make an appointment and treat yourself to that Last Jedi Porg tattoo (those eyes!) or finally "fix" the name of your one true love. Featured artists Liz Cook, Tye Harris and Joshua Carlton, along with over 30 others, will be tattooing on site the run of the expo.
If crowds of pierced and tatted people aren't hot enough, this year takes the heat up a notch with a Hot Wings of Death chicken wing-eating contest Saturday from noon to 1 p.m., brought to you by Humboldt Hot Sauce, and a Hot Guy/Hot Girl Contest on Friday from 6 to 8 p.m. But the real cuties will be working the catwalk on all fours during the Super Bully Bowl — an English and French bulldog pageant on Sunday from noon to 1 p.m. We're drooling already. And don't miss the evening tattoo contests Friday through Sunday, where you can see some of the best ink around.
This is an all ages event — teens 16-18, bring a parent with you if you want that "Mom" heart tattoo. You may be a rebel, but rules is rules.