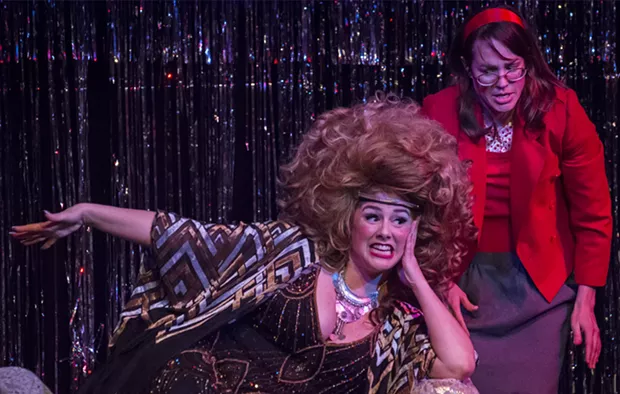 Photo by Mark Larson
Sarah McKinney as Velvet Q. Jones and Alyssa Hughlett as her dowdy, clumsy assistant Nancy.
The funny, bawdy and sometimes naughty comedy and music show
The Papaya Lounge
met its goal of turning the Arcata Playhouse into a seedy cabaret nightclub on Saturday, Jan. 27.
Velvet Q. Jones (Sarah McKinney) hosted the cabaret, billed as a music, comedy and variety show "with a fruity attitude." The show was supported with excellent live music by the Fruit Flies (Tim Randles, Ken Lawrence, Mike LaBolle and Greg Moore). The very loose plot line involved the somewhat frantic Velvet Q. Jones' efforts to fend off her creditors while being a catalyst in the transformation of her dowdy, clumsy assistant Nancy (Alyssa Hughlett).
The evening performance in front of a packed house was billed as a test run and afterward Playhouse promoter David Ferney said, "We are pleased with the reception of the show and plan to bring back
The Papaya Lounge
as a showcase of local talent on a regular basis." See the slideshow below for highlights.
Sarah McKinney was funny, provided plenty of beautiful singing and overflowed in her portrayal in the role of the buxom and busy Velvet. I also particularly enjoyed Alyssa Hughlett's metamorphosis from frumpy klutz to athletic gymnast to a woman with sex appeal in the role of Nancy; Emilia Björk as clarity-challenged singer Lamp; Alexandra Blouin as sensual Barrel Von Schtudentdebt with her reversed strip tease act from sexy into clothed book reader; Jackie Dandeneau and Sienna Nelson as the Passion Sisters, "touched" by religious fervor; singer Sayda Trujillo's passionate act, "La Mujer de la Lejos"; Maggie Lally as the energetic Marge Beaver with puppets and a frenetic strip tease; and the un-politically correct puppet Willikers (by David Ferney), who interacted with Velvet and her puppet chorus.
Other guest performers included Becca Finney as the busy bartender Zeb, singer Carl McGahan, singer Lindsay Battle, Laura Muños as a very bird-like bird of paradise, Chloe Ali-Oshatz and her Loud Neighbors brass band, and Micael Bogar as a bulging-costumed Foobar with a political message.
The Arcata Playhouse included the option of cabaret table seating with cocktails and snacks that included frequent interaction with Velvet and other performers. A solid sound system's balance and levels provided great support for the music and mic-assisted singing but some of the evening's non-amplified wit, banter, badinage, raillery, ripostes, quips, jests, persiflage and repartee was muffled or inaudible for some further back in the packed house. That aside, I'm looking forward to future evenings at the Papaya Lounge.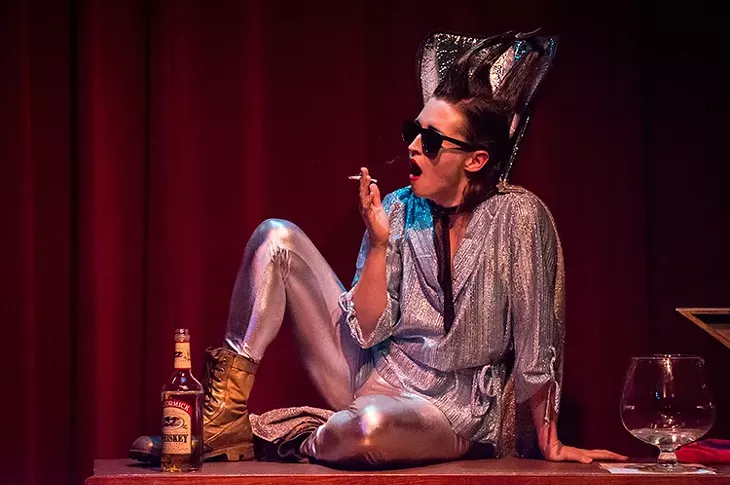 17 slides