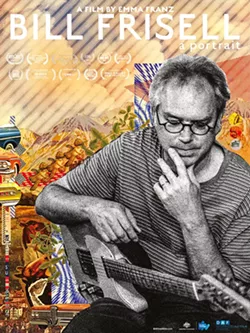 Featuring the artwork of Paul Moore and cover photo by Monica Frisell
Bill Frisell: A Portrait
Bill Frisell might be my favorite modern guitar player. His 2000 album Ghost Town is certainly among my favorite albums of all time, with its blend of haunting and heart-worn cinema-scapes drifting through a tracklist full of stringed instruments that ring out more often than just pluck their plaintive and perfect notes. It's something I return to again and again. In fact, I am listening to the title track right now. Anyway, tonight 7:30 p.m. the Minor Theatre is showing a documentary about the man's life and works called Bill Frisell: A Portrait (price TBA). The show will be accompanied by a live performance of his work arranged and played by Frisell collaborator Jenny Scheinman, with help from John Wood. I'm not gonna lie, this will probably sell out. In which case you should perhaps stay in and explore Bill's back catalogue of music. He's really worth it.