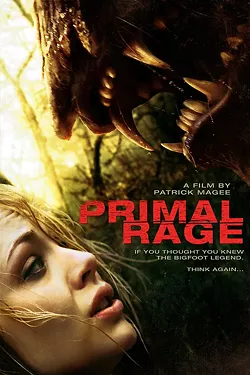 It's not your regular, run-of-the-mill rage. Your "I can't get this ever-loving packing envelope open" rage. No, this rage is primal. And it's coming straight for us. The Primal Rage North Coast Premiere slashes its way to the Eureka Theater this Friday, Feb. 16 at 8 p.m. ($10).
Described as "a Hollywood-produced Bigfoot horror movie filmed almost entirely in the redwood region during 2015 and 2016," Primal Rage is another fine example of a film starring our spectacular North Coast and its primeval feel. The winding rural highways are familiar. The towering trees, same. It's like any drive home for any one of us — except for the rage. The lurking, hulking rage and the ferocious roar of something very big, very scary and very, very hairy. In the fern-laden forest, something is stalking a young couple who find themselves waaay off the beaten path (horror film trope alert: sex in cars precedes bad, bad things).
Edward Olson, the production coordinator and co-producer of the film, is a local guy, graduating from Eureka High School in 1987. (Hey, Eddie!) Olson will be on hand for the premiere to introduce the film. Primal Rage is rated R for some intense violence ... and the rage. Doors at 7 p.m.