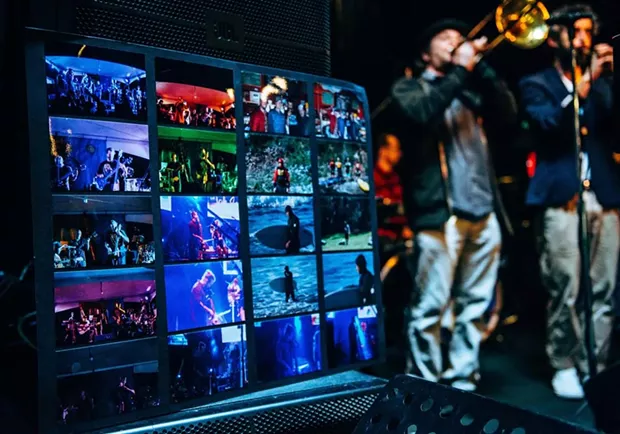 Photo by Zev Smith-Danford
Photos of Lee doing what he loved best —playing music and surfing — displayed just offstage at the memorial.
It started out as a cold and gray Arcata afternoon. Rain was sprinkling down lightly as I walked into The Jam at 1 p.m. for a memorial "getdown" for cellist Mike Lee, who'd tragically drowned on the last weekend of January while surfing off the coast of Morocco. The stage was set for an ensemble jam but so far only a scattering of friends and musicians and family had trickled in to the sounds of DJ Rickshaw. He was playing songs he knew Mike liked. "The Weight" by The Band, with an added bass drum beat on the deck, morphed into other tracks, including "I'll Take a Melody" by New Orleans' recently departed maestro Allen Toussaint. "Alyo" by The Hypnotic Brass Ensemble thumped out of the speakers at one point. "I played that because it reminds me of a New Orleans second line tune," DJ Rickshaw told me later. "It's the kind of thing Mike really liked. When I saw him, the first thing I would always ask him was, did you get in the water today? That was my way of asking him how he was doing, because I knew he'd be in a good mood if the answer was yes."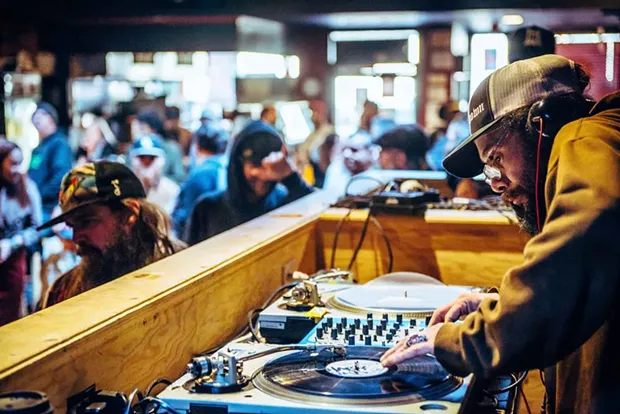 Photo by Zev Smith-Danford
DJ Rickshaw spinning Lee's favorite tunes.
Mike's brother Dave Lee confirmed this line of thinking, "One hundred percent he would want to go out that way: on the water, surfing or kayaking. When we would talk about death, Mike would say that he didn't want to die of cancer on a bed somewhere sick and old. He would have wanted to go out doing something he loved."
Beyond being in the water, Mike loved music. His mother Kathy Lee, herself an accomplished vocalist and violin player, told me that he had been a musical child, starting on the piano when he was about 6 years old. "He loved playing music," she said, "He had a unique outlook on life, ever since he was a child. Very unconventional. As an adult he structured his life around playing music. He worked jobs - whether as a plumber or working on a legal organic pot farm - to play music. He worked to play." Kathy smiled as she remembered her oldest son. "He was trying to buy a house once and I asked him if he wished he had gone down a more traditional path, one which would have made getting a mortgage easier. At first he said yes, but then he changed his mind and became more resolved. 'No mom,' he said, 'I am happy that I did things this way.'"
Photo by Zev Smith-Danford
Friends and family listened to the music and reminisced about Lee.
Keyboardist Brian Swislow of local funk outfit Object Heavy told me about his days playing in the hip-hop outfit Subliminal Sabotage with Mike. "There's not many cellists with a perfect ear who had his dedication. He's the one guy in the entire Humboldt music scene who is just irreplaceable. He was the reason why we called Subliminal an orchestra, he was the reason why it worked."
Standing nearby, lyricist NAC-One chimed in: "His sound was angelic, majestic shit. Nothing else like it."
By 3:30 p.m., an ad hoc jazz funk hybrid band was in full swing with a sweet down tempo dirge led by visiting trumpeter Nicholas Dominic Talvola and featuring a rotating cast of players. Rapper Eli Fowler, aka Little Kidd Lost, delivered a beat-driven elegy. "There will always be a hole without Mike Lee, there's just no replacing him," he told me later while Jonny Woods of The Velvet touch performed "So Long," a funeral tune he had penned for lost friends. I watched Mike's sister Mary Beth Avedesian dance with her cute toddler daughter while person after person gave testament to Mike's essential goodness, whether with words or music. A young man named River tapped me on the shoulder to tell me about how even though he didn't know him very well, Mike would always take the time to chat with him and thank him for coming out to a show. "He was just … a very kind person." More than a dozen musicians came and left the stage in an ongoing kaleidoscopic funk/blues/soul jam which walked from deep grooves to heartfelt solos with nary a hitch.
Photo by Zev Smith-Danford
A photo of Lee playing was set up at the event.
At one point I spoke to Peter Ciotti, drummer for Object Heavy and owner of The Jam who'd been a musical partner of Mike's for more than 15 years. "'Just the cello,' people would say, whether we were playing with Chali 2na or whoever, and all of a sudden everything would break down to a Mike Lee cello solo. And it would start off quiet and very humble, but by the end, you know Mike had all these pedals he would play through, it would just be huge and ripping like Jimmy Page or something. And people would just listen and go crazy." Pete looked down at his phone and pulled up his Facebook feed. "Here's a picture that came up today. It's just him and me in the van on tour. It was my 40th birthday weekend when I found out the news, so I had been thinking about mortality, but this one I just didn't see coming. This one was a shock." He continued, "I have been looking at a lot of old band photos recently and Mike's always there, but in the background because that was the way he was, he didn't have that front-man thing. And I look at these pictures and it's just like he's haunting them, like his ghost is moving through all of these memories."
Photo by Zev Smith-Danford
Jam owner and Lee's bandmate Peter Ciotti playing with friends and fellow musicians at the memorial.
Leaving The Jam later, I caught blue skies and the beginning of a beautiful sunset. Thinking back on the many - too many to include here - impressions Mike's friends and bandmates had given me, the resulting image was strangely congruous, a rare collaborative eyewitness account in whihc all the stories matched. Mike was certainly a brilliant musician but more importantly, he was a man who had a strong sense of decency and loyalty, and who lived by his own unique metric. I knew him briefly in high school and had a very favorable impression of him - rare high praise considering how much I disliked my high school experience. And I genuinely regret not getting to know him better when I moved back to Humboldt as an adult. What Ciotti said about his haunting presence in the old band photos was true Sunday at The Jam, but with a slight twist. Because it wasn't exactly the ghost of Mike Lee in that club but rather his spirit, and that spirit, however briefly, managed — through the love of his friends and through their music — to fill the hole his death had left.
Rest in peace.