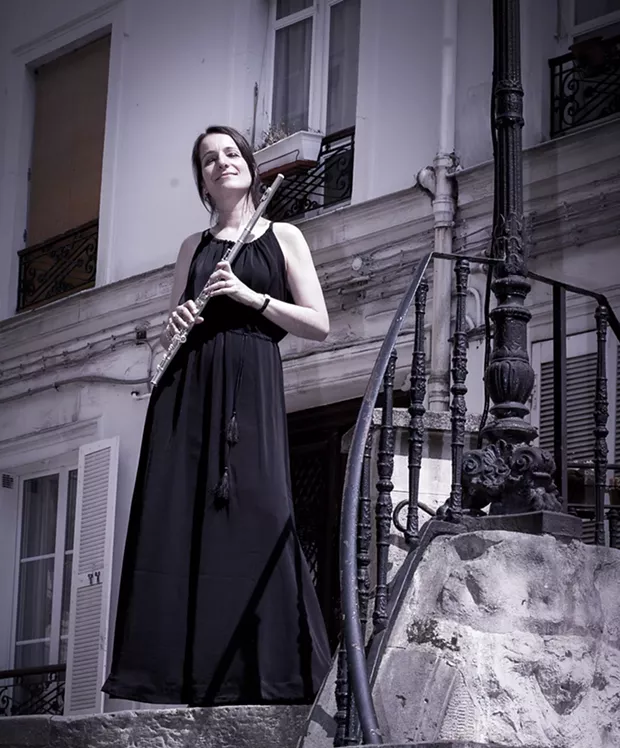 Courtesy of the artist
Paula Thomas
Eureka native Paula Thomas is based out of Paris but in any given year, the flautist can be found all over Europe performing music from the classical, baroque and contemporary musical repertoire. She is in town for two performances with the Eureka Symphony at 8 p.m. on March 2 and 3 at the Arkley Center for the Performing Arts. I recently sat down with her for a coffee and a brief interview in her hometown.
NCJ:
You're a native Eurekan
Paula Thomas:
I am. Born and raised in Eureka.
NCJ:
Eureka High Alumnus?
Paula Thomas:
Eureka High Alumnus. I moved to France in 1991 right after I graduated from the San Francisco Conservatory of Music.
NCJ:
Did you have a position lined up when you moved there?
Paula Thomas:
No I didn't actually. I just went there thinking that because it's the center of the flute world, or was, mostly at that time; things have sort of changed. I went there to study, sort of like a master's degree. And then I enrolled in some conservatories and we have a prize system there, it's called first prize, second prize and so on and I had a first prize in flute and in chamber music.
NCJ:
Where are you working now?
Paula Thomas:
I am freelance so I've done a lot of orchestral playing and now I'm doing a lot of chamber music playing. I play with a lot of different groups: I have a flute and organ duo, I play with flute and harp, I play with flute, piano and voice.
NCJ:
How often do you come back to Eureka?
Paula Thomas:
Not very often. The last time I was here was in 2014 and the last time before that was like five years. It's far away.
NCJ:
What brought you out here this time? You're working with the Eureka Symphony?
Paula Thomas:
That's the only reason why I came out.
NCJ:
And what will you be performing? Did you and Carol (Jacobson, Music Director and conductor of the Eureka Symphony) pick out the pieces together? Was it something you had in mind?
Paula Thomas:
I proposed it. I'm performing a flute concerto by Franz Benda, a Prussian-Czech composer. The piece is from the end of the baroque, early classical period. His dates are 1709-1786. He was a court musician for Frederick the Great, he was a violinist. It's the Flute Concerto in E-minor.
NCJ:
Have you worked with Carol before?
Paula Thomas:
Yes … what happened was we saw each other a couple times and hit it off and, not last summer but the summer before, I was going to give a recital a few hours out of Paris and I needed a cello and she had told me that if I ever needed a cello to call her, and so I did and she came out and we gave two flute and cello concerts in a really beautiful 12th century hall. We did pieces by Haydn, by Bach, by Graham Lynch — he's a contemporary British composer. Living composer. A tango piece for flute and cello by him. Really cool.
NCJ:
How do find Eureka now that you are back?
Paula Thomas:
You know, it still really touches my heart, I am really proud to be from here. Yesterday we were at a restaurant and we were looking out at the bay and the sun going down, and the sky reminded me of my childhood. There's a specific feeling to that which I enjoy hooking up with again.
NCJ:
Do you consider France your home now?
Paula Thomas:
Yeah. You know that happens when you live somewhere that long. It was right after undergrad — I just went there and never came back so it's been a while.
But, you know, I am French now. I am a French citizen — I consider myself a French person now.
NCJ:
Any last thoughts you want to share with the people of Humboldt?

Paula Thomas:
I just want everyone to have a really good time at the concert, enjoying this piece which is not played in America. It's a really beautiful piece. Very light and very musical.