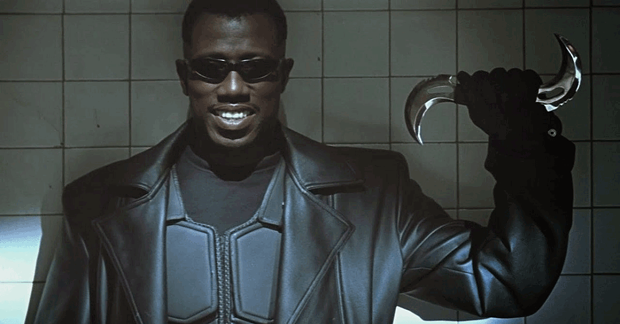 Before Black Panther pounced from the comic page to the big screen, another black superhero from the Marvel universe blessed us with a trilogy of movies, starting with the eponymous Blade (1998). Three things you should know about this film: 1) It's showing at the Arcata Theatre Lounge on Wednesday, Feb. 28 at 6 p.m. (free with $5 food or beverage purchase). 2) It's genius. 3) I will fight anyone on that last thing.
Let me explain: It's Wesley Snipes as a samurai sword-wielding half vampire who's immune to sunlight and hunts the undead, assisted by a wiry, whiskey-swilling Kris Kristofferson. How are you not going to show up for that? Snipes — with a flat-top fade, tribal tattoos, leather duster and wraparound sunglasses — deploys his signature staccato martial arts moves, sword and boomerang thing to mow down the vamps at blood-drenched undead raves and elaborate lairs. It's the anti-Twilight and nobody sparkles, least of all Stephen Dorff's evil vampire tech-bro, with his cheesy five o'clock shadow and nefarious plans to overthrow humans and the stuffy vampire establishment by resurrecting an uber-bloodsucker. And, of course, a human hematologist (N'Bushe Wright) gets caught up in the blood feud.
We've been blessed with sequels, of course — you don't make just one African-American samurai vampire movie. But this is your chance to see the original on the big screen, full of deadpan quips, pre-Matrix bullet dodging and Snipes practicing the lost art of stock-still badassery. Who does a girl have to exsanguinate for Blade 4?