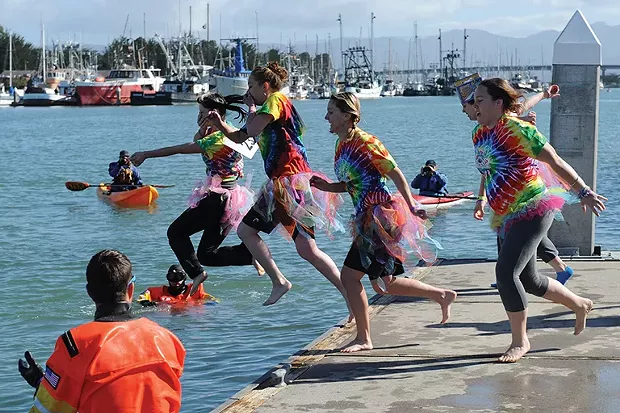 Photo by Mark McKenna
Perilous Plunge
The biggest fundraiser of the year for the Redwood Discovery Museum is a wet and wild Humboldt county tradition. The Perilous Plunge, happening Saturday, March 17 at 11 a.m. at the F Street Dock in Eureka, sees presumably sane people take a running leap off a short pier for a very good cause. Cash from the splash enables the museum, one of the community's best youth resources, to develop new exhibits, programs and camps, provide scholarships and free programs to the community, while maintaining low admission and membership rates.
See who's plunge-worthy this year when individual and team "plungers," wearing themed outfits, wacky attire or simply their plunge-day best, leap into the bay. Before making a splash, the participants proudly parade from Old Town to the boardwalk starting around 9:30 a.m., so make sure to arrive a couple hours before the plunge to enjoy the revelry in the streets. Awards are given for best team jump, best costume, and the coveted King and Queen for whoever raises the most money. If you're thinking these guys and gals are crazy to drop into 50 degree waters, or if you're considering donning a tutu and diving in next year, keep in mind that the plungers recover from their daring dips with a hot tub, heated dressing room, catered lunch and Bloody Marys. Plus, it's all for the kids.