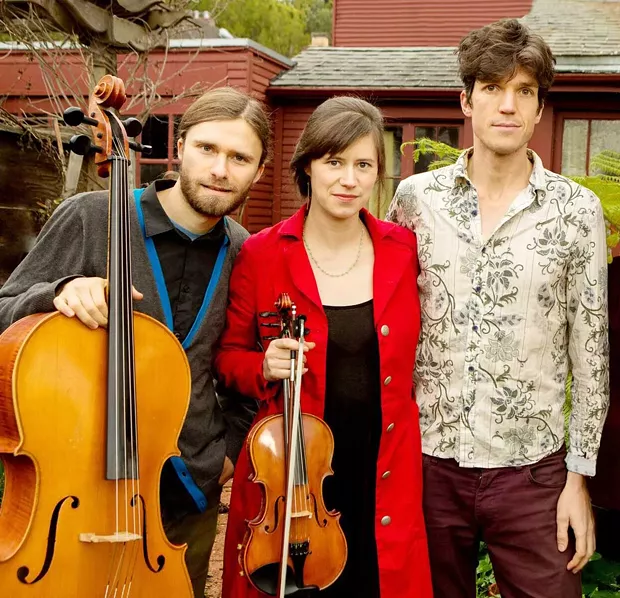 Photo by Dave Weiland
The Bee Eaters play the Arcata Playhouse on Friday, March 30 at 7:30 p.m.
The Arcata Playhouse hosts bluegrass trio The Bee Eaters tonight at 7:30 p.m. Comprised of hammer dulcimer player Simon Chrisman and award-winning fiddle playing siblings Tashina and Tristan Claridge, this group is well-known beyond the bluegrass world for its playful and genre-bending virtuosity. This show is suited for the younger student budget crowd with tickets only $10 for all kids 25 and under and $20 for the rest of us 'dults. Meanwhile over at the Miniplex, Sage Francis and B. Dolan — two of Rhode Island's finest underground rappers — bring their road-trip rap act duo The Epic Beard Men to the stage for an evening of furry lyrics spitting at 9 p.m. Dr. Oop opens with other unnamed-on-the-flyer guests ($15 advance, door TBA).
Will the ghost of Syd Barrett bring a spectral Day-Glo picnic from the ether tonight to See Emily Play with the Vegetable Man when local tribute act Money dips into his portion of the Pink Floyd songbook for part of the set? There is only one way to answer this admittedly absurdly worded question: Come on down to Humbrews at 9:30 p.m. and get in line behind the piper at the gates of dawn ($10, $7 advance).