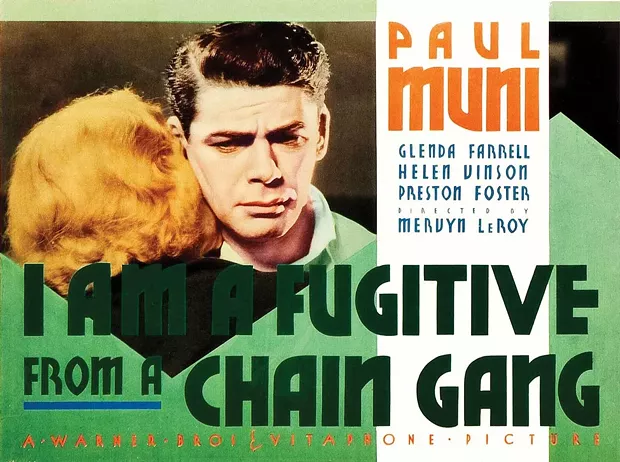 I Am a Fugitive from a Chain Gang
Think classic movies were always so prim and proper? Honey. Before the suits started enforcing the Motion Picture Production Code in 1934, censoring out all the sex, drugs and immoral behavior, they rivalled our current prime-time news. This month the Humboldt County Library celebrates Sin in Soft Focus: Pre-Code Hollywood Films every Tuesday at 6:30 p.m. (free).
The series gets off to a rattling start on April 3 with I Am a Fugitive from a Chain Gang (1932), hosted by Journal Field Notes columnist Barry Evans. In this drama starring Paul Muni and directed by Mervyn LeRoy, a World War I vet finds out the system's rigged when he gets sent up the river on a bum rap and busts out.
Next up on April 10, Michael Cooley presents another LeRoy picture, Little Caesar (1931), starring Edward G. Robinson and Douglas Fairbanks Jr. as a couple of small-time hoods looking to move up in/out of the gangster life. Expect dirty double crossing, see?
Head backstage with Charity Grella on April 17 with LeRoy's Gold Diggers of 1933 (1933), starring Dick Powell, Ginger Rogers and Joan Blondell, in which a trio of Broadway showgirls charm the swells and save the show between big musical numbers.
Last stop on April 24 is Shanghai Express (1932) with bad girls Marlene Dietrich and Anna May Wong, introduced by yours truly. Josef von Sternberg's story of exes, fallen women and civil war on a train is full of scandal, violence and Warner Oland, that Swedish dude who played Charlie Chan.