Photo by Mark McKenna
Natalie Arroyo proposes to Jason Lopiccolos at the final derby bout of the season.
Rough as this world is, romance isn't dead. Maybe because it's wearing a helmet. In the final Humboldt Roller Derby bout of the season last night, just before the Saplings skated on, the ladies in pads and helmets burst into Erasure's "Always," complete with synchronized dance moves. Team member Brawn Luc Picard (aka Eureka City Councilperson Natalie Arroyo) held a sign aloft proposing to her beau Jason Lopiccolos.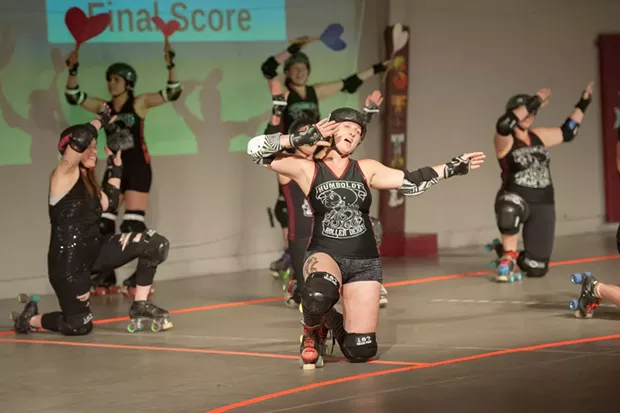 Photo by Mark McKenna
Team Humboldt Roller Derby is Team Romance.
Arroyo presented her fella with a pendant with her thumbprint on one side and "corazón," Spanish for "heart," on the other. Lopiccolos, a teaching associate in phycology and invertebrate zoology at Humboldt State University, said yes, saving everyone from one of those awkward Jumbotron moments and giving us all the feels. Dab your eyes and enjoy photographer Mark McKenna's shots of this extremely Humboldt proposal (man-bun and everything).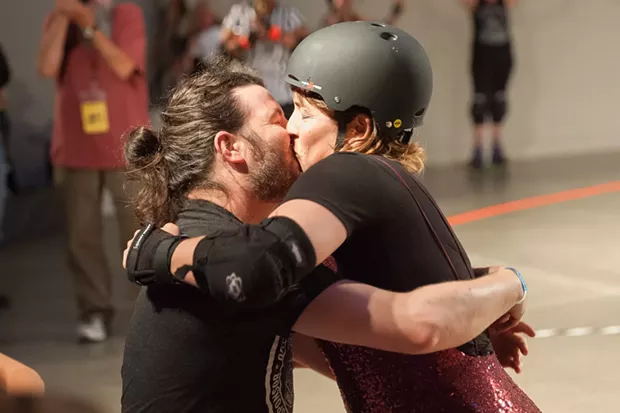 Photo by Mark McKenna
We're not crying, you are.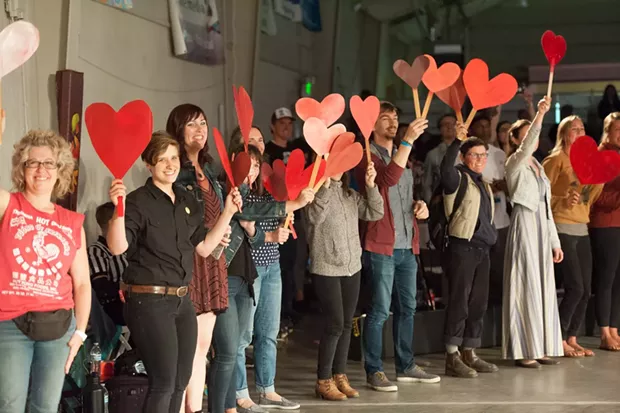 Photo by Mark McKenna
Proposal cheering section.
Photo by Mark McKenna
Just engaged.