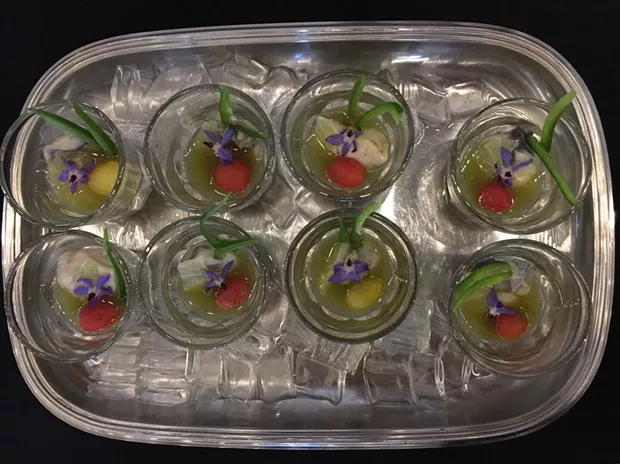 Photo by Jennifer Fumiko Cahill
Best in Show shooters from Sushi Spot.
By 10:15 a.m., parking was scarce, revelers were flowing onto the plaza and the first entries for Best Raw Oyster at the Arcata Bay Oyster Festival were teetering toward the judges on an ice-packed tray. By noon, the staff was tallying ballots, and by 1:40 p.m., the winners were on the books and volunteer coordinator Sydney Marrone was sprinting across the plaza to make the announcement.
Out of a mere five entries this year, there was still stiff competition, and Hog Island Oyster Co. took the title for Best Raw with a sweet corn mignonette, micro cilantro and a drizzle of urfa chili oil.
Photo by Jennifer Fumiko Cahill
Hog Island's corn mignonette won Best Raw.
Best Cooked went to Blue Lake Casino for its grilled oyster with miso dill butter sauce and rice cracker caviar, which beat out six other contestants. It's not yet on the menu at Alice's but the staff on the plaza said it may be soon, depending on how it sells today. The win might add motivation there.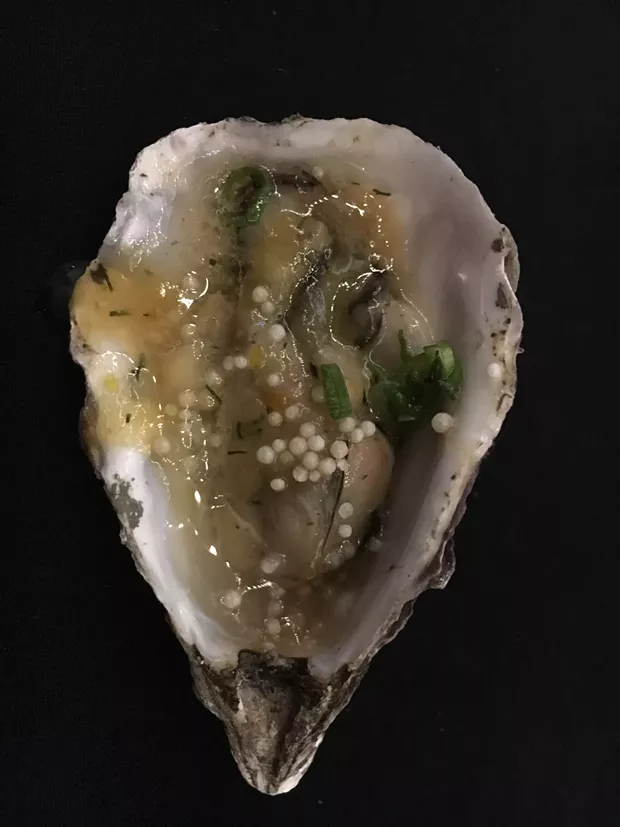 Photo by Jennifer Fumiko Cahill
Blue Lake's Best Cooked oyster with rice cracker crispies.
Best in Show shocked no one with frequent winner Sushi Spot claiming the prize for its Goose Point oyster shooter with spicy yuzu citrus pepper sauce, jalapeño, lime and a teeny cherry tomato that some poor soul had to peel. (We see you, hardworking tomato peeler.)
And Pizza Gago snagged Best Non-oyster with a wagyu beef and chimichurri pizza, though it's worth noting the mobile pizza joint very nearly took Best Cooked Oyster with its garlicky pizza topped with lemon and coconut cream sauce, bacon, spinach and oysters.
Photo by Jennifer Fumiko Cahill
Steak pizza won Pizza Gago Best Non-oyster.
The sun's still shining, the music is still playing and you can still line up for the winners if you hurry.