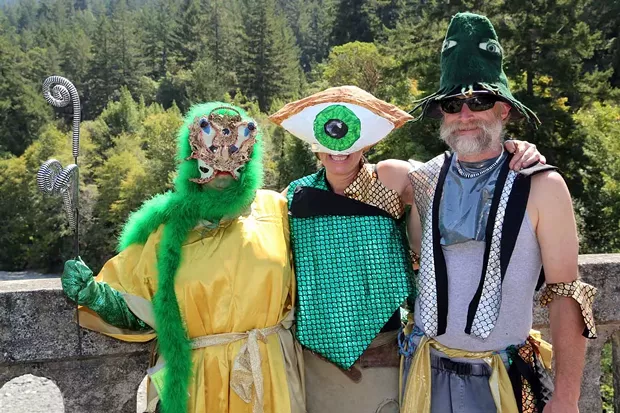 But it's aliens.
They come from all corners of the observable universe, on the third Saturday in August, to the third rock from the sun (specifically the small town of Bridgeville), for the annual BridgeFest and Flying Saucer Contest (free admission). This year, aliens and earthlings will converge on the bridge — mile marker 24 on State Route 36 — Saturday, Aug. 18 from 10 a.m. to 5 p.m. for an out-of-this-world festival with contests, arts and crafts booths, live music, food, drink and hilarity.
What's big on the runways in Solaris this year? Slip into something metallic for a friendly competition with the other other-worldlies in the My Favorite Alien Costume Contest to find out. Or show off your stellar skills in the Intergalactic Flying Saucer Trials by flinging your creation off the bridge to see if it lands closest to the mark. Adults can also toss some rocks off the bridge for the Rock'N'Pot. If slinging a 50-lb. sack of soil over your shoulder and running through the Dirt Bag Muster for your chance to win a pallet of soil is more your thing, go for it. You could also earn the title of "Biggest Dirtbag." Seriously. After, replenish your strength and sanity enjoying barbecue provided by the Bridgeville Volunteer Fire Department and some homemade pie and other sweet treats. Little ones are welcome at this celestial soiree, too, and can romp in the bounce house or work the water dunk tank in the KidsZone while the young at heart peruse more than 30 arts and crafts booths while grooving to the galaxy's best live music.
Head out State Route 36 to the little town that can't be bought and have a saucy good time.