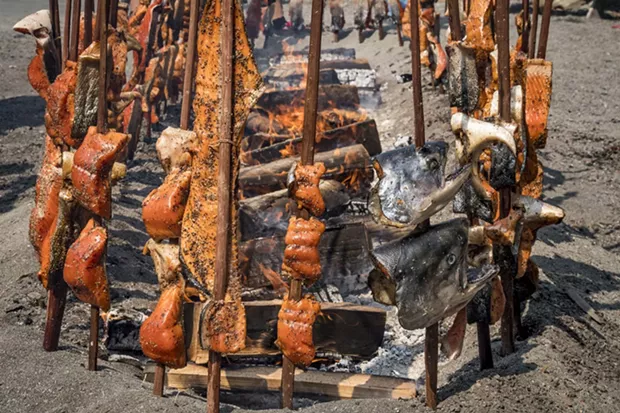 Photo by Mark Larson
In a Gensaw family tradition, Sam and Donovan Gensaw helped their grandfather Danny Gensaw cook fresh salmon over an open fire for the Salmon Festival.
The tasty smell of fresh Klamath River salmon cooking the traditional way over an open fire mingled with the tangy smell of smoke from wildfires at the Yurok Tribe's 56th annual Klamath Salmon Festival on Sunday. The Yurok tribe had canceled serving salmon in 2016 and 2017 due to low fish runs.
The event's annual parade featured two grand marshals who are military veterans, Joe Pitt (89) of Klamath, and Irving Wilder, of Weitchpec.
In a new addition to Sunday's usual family fun, live music, car show and a wide array of vendors and information booths, seven expert traditional basket weavers from different local tribes worked in a tent area filled with different types of ceremonial regalia, basketry and other cultural objects. See the slideshow below for highlights.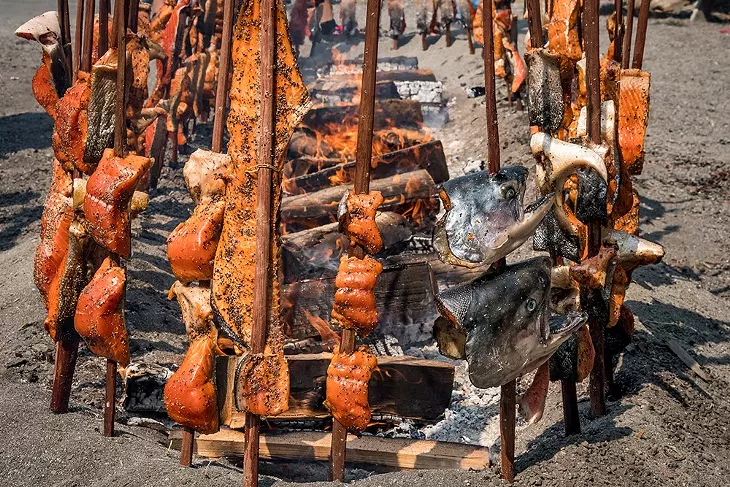 20 slides