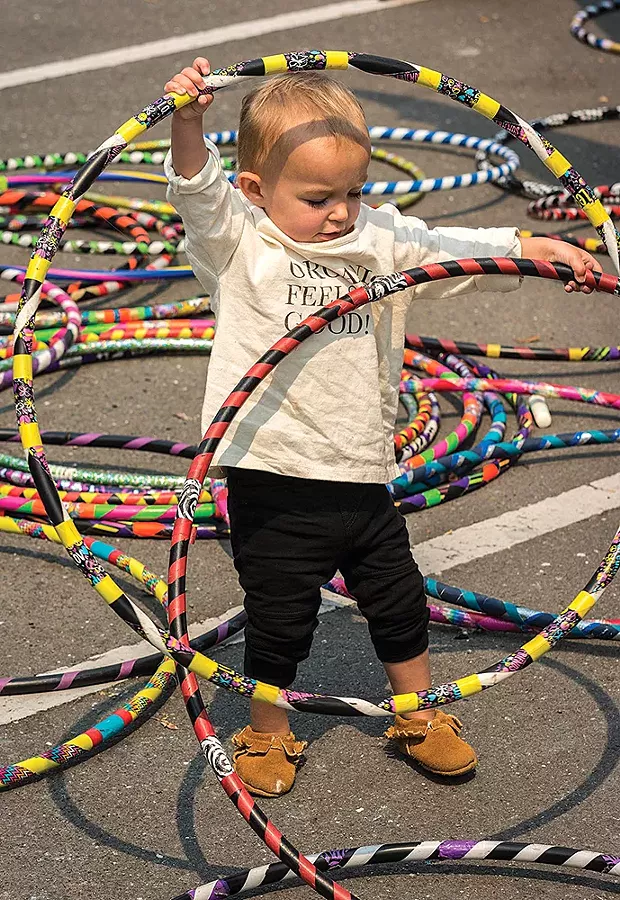 Photo by Mark Larson
Everyone can join the fun.
Downtown and Old Town Eureka just had a week of beautification courtesy of several local and visiting artists who painted magnificent scenes on buildings and structures. Arcata's Creamery District follows suit Saturday, Aug. 25 during the Paint the Town and Night Market from 1 to 9 p.m. (free). Local teaching artist Haley Davis throws some color on the walls at the intersection of Eighth and L starting at 1 p.m. There's a splash of distinction with this painting party as the public gets to pick up brushes and join in the fun.
After an afternoon of painting, treat yourself to the vibrant Creamery Night Market, which starts at 4 p.m. offering art, live music by Pan Dulce from 5 to 7 p.m., a beer garden and lots of local vendors and tasty food. The Creamery District's studios and businesses will be open until 9 p.m. so you can wander in and out to see what's new with your favorite artists and producers. Stop by Seapod, Bang! Bang! Vintage, Birdman Ceramics, Phoenix Ceramics, MK Studios, The Back Porch and the Good Collective — you might take home a treasure or two. The lively scene also includes a Fusion Partner Dance at Redwood Raks with a lesson at 7 p.m. and dancing at 8 p.m. Saddle up to Wrangletown Cider Company to see what they're pouring and peep Jefferson Ale House's new space.