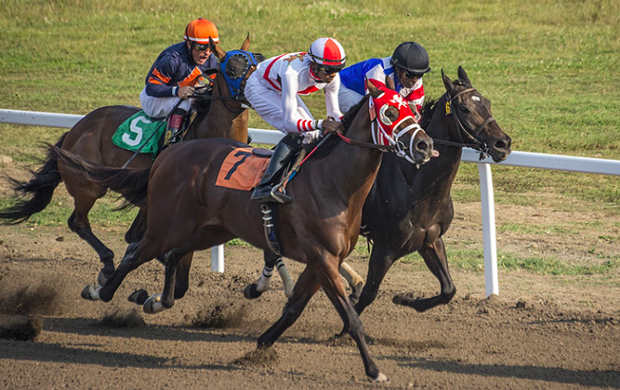 The penultimate day of the Humboldt County Fair in Ferndale is the best day, Ladies' Hat Day. As the name suggests, women in hats abound — ranging from the simple imitations of Christine McVie to resplendent facsimiles of Eliza Doolittle's chapeau at the Embassy Ball. There are a number of contests and a parade. It's a welcome respite from the Carhartt and flannel-soaked daily couture of Humboldt.
Often gaudy, like the dozen-or-so women in amazing matching watermelon dresses and decorated hats (whom I really hope won the "Best Group" category because they looked like a summertime cornucopia) and idiosyncratic (the woman with the papier-mâché horse-and-jockey hat), folks really lean into the event, to the betterment of our community, I think.
Nothing goes with ornate hats and fancy attire better than Southern humidity, mint juleps, and horse racing. Though we couldn't replicate the former — even with a balmy 65-degree day — the latter two were never in short supply.
The epicenter of Ladies' Hat Day is the racetrack, which, on bookending weekends, has real-life horse racing. Past the under-engineered death traps we call carnival rides and innumerable fried food stands that are the staples of county fairs nationwide, looms the stadium. Its tan paint chipped and weathered, some might call it tumbledown. I call it scrappy and full of character. It's a fitting home for Humboldt's iteration of one of the world's most ancient sports.
My pace quickened as we approached the entrance; I had to check myself with every step so as not to leave my partner lost in the morass of fairgoers. You see, my Girl Friday and I had gotten all gussied up for the occasion and I was intent on
stretching my attenuated budget over a razor's edge.
I love to gamble. I love, love, love it. I love it so much that I go to great lengths not
to do it very often. My personality doesn't lend itself well to moderation. But, as my dear auntie is so fond of saying, "Everything in moderation, darling. Including moderation." So every so-often, I like to lean in to my vices — engage in dialogue with them.
It was 2 p.m. Seven minutes until post time, when bets are locked in and closed. Two-hundred and twenty yards, mules 3 years old or more. A quick shot to the heart to get things started. I bet a trifecta and two wins straight from the handicappers, and lost all three. Here we go again.
Booze started flowing, punctuated by 50 ccs of nicotine to keep me sharp. Hustling up and down the rickety stairs to buy vouchers and sneak in bets before post time. Hedging longshots with sure things, betting purely on horse name or jockey weight. Peering over the shoulder of a man with a worn, nearly-finished legal pad and a line book the size of San Francisco's Yellow Pages. Another cocktail, another
cigarette. Gambling is a lot like running: Once you've crashed through the first wall and hit your stride, it's easier to keep going than it is to stop.
By the second race (five furlongs, Arabian, 3 years plus), my girlfriend had gone from an intrigued spectator to one of the loudest supporters in the stadium, our voices two more hoarses in Ferndale. The ponies suck you in quick. Her horse rounded the final turn in second and she leapt up so fast she nearly caught fire,
hollering like she was at a little league baseball game. (She would win two races later but her reaction the was unfit for print.) I had a lucky call and won my longshot, giving me some "house money" for the next run. The hooks were in. You can't walk away on a loss and leaving on a win shuts the door on a hot streak. Every avalanche begins with a single snowflake and who am I to shun nature? I had to keep going.
Time starts to compact when I'm gambling. Things bleed together, become indistinguishable from one another. Before you know it, you're sauced, the only things in your wallet are a maxed-out credit card and a moth, and you're standing in line to cash out two minor winners and a $5 voucher (still patting myself on the back for this herculean show of restraint).
In the end, I won $16 (thank you True Grit and Soft Trip!) and had a stack of 15 losing tickets filling up my back pocket. But dammit, I had fun. See you next year.