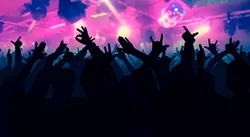 Brooklyn has spawned another neat fusion band whose tour brings its sounds to our fair county, specifically the stage at the Outer Space at 7 p.m. Combo Chimbita melds a heavy mix of vintage psychedelia with rock and Colombian cumbia rhythms to forge a new alloy in the dance music industry ($10). Along for the ride is similarly minded local act La Mancha.
An hour later over at Blondies, Portland is in town as PDX rock bands Drooler, On Drugs and Ah God join local act Dimboi in a line-up that reads like a sentence from a cut-up technique journal I forgot to keep in my 20s. Anyway, it's an all-ages gig and the cover's only $5 so there you have it.
All good things must come to an end and with the imminent departure of two core members — including my good friend Dieter — Motherlode has decided to call it quits. But as another cliché goes, God doesn't close a door without opening a window and the silverlining in this story — am I having a stroke? — is the new album being feted tonight at Motherlode's going away show/album release party at The Jam at 9 p.m. ($10). So come on out and see one of Humco's best OG funk bands kick out the jams for the history books.