Courtesy of the artist
Madelyn Covey,'s "Wonder Woman," watercolor on wallpaper, 2017.
"This is about
otaku
-dom: intense, obsessive fandom," Katy Warner said, using the Japanese word that fans worldwide have adopted to describe obsession. She was referring to the screenprints and collages she is showing at the Sanctuary in Arcata through Sept. 6, dense with snippets of text, "based on the plot of the Japanese role-playing game I invented in high school."
Otaku of every stripe will find their enthusiasm mirrored by the works in
Cosplay / Larkspur
, a two-person show at the Sanctuary that features prints and collages by Warner and paintings by her fellow Mills alumna Madelyn Covey. Covey lives in Oakland and works at Creative Growth, a nonprofit serving artists with developmental, mental and physical disabilities. Warner supervises arts programming at the Sanctuary in Arcata and manages the print room there.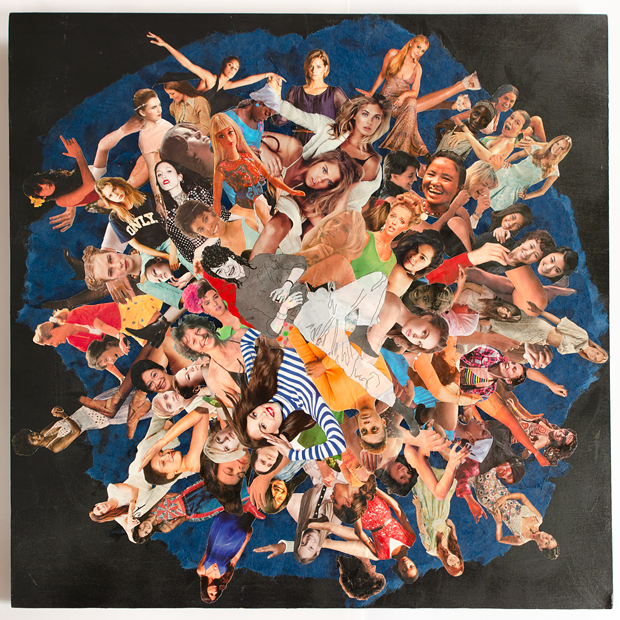 Courtesy of the artist
Katy Warner, "Genji's Harem," collage and charcoal mounted on wood, 2018.
Warner's "Genji's Harem" and "Murder of Miho" are based on forms of image play common to fan worship — the photo tracing, the screenprint and above all the photo collage. Cyanotype and linocut make an appearance. One of the collages here involves a block print on chalkboard. Nearly all the works include short excerpts of text, neatly letterboxed like inter-titles on a screen: "excerpts of dialogue from a hypothetical novel."
"I was a huge animé nerd in high school," Warner said. She and her younger sister Emma grew up in Arden Arcade, a Sacramento suburb, and became fascinated by the Final Fantasy video game franchise as teenagers. "We tried to develop our own role-playing video game based on it, using RPGMaker 2000. I did the drawings. My sister did programming and wrote the music."
The game detailed the adventures of a fictional superhero character named Genjirou Ochi, noteworthy for "his ability to control gravitational fields, his rise to power as the Emperor of the Overworld, and the trials of the heroes who intercept his plans for genetic magical supremacy."
That RPG, never completed and now lost to creeping obsolescence ("It was programmed for Windows 98!") is positioned as creative touchstone and subject of nostalgia for Warner's current body of work.
The journal Warner used for her notes back then stayed with her into adulthood, eventually serving as basis for increasingly elaborate plot developments. "I slowly added to the plot, integrating in the new people I met along the way as models for increasingly complicated characters. It all goes back to an idea that's been very important for me," the artist explained. "Fandom as the source for artistic creativity."
Warner, like many gamers and cosplayers, had taken a while before deciding to come out as a committed fan. "When I got accepted to art school, I felt embarrassed by the gaming I'd done with my sister, years before." Later, in graduate school at Mills, she took a class with filmmaker and animator Samara Halperin, who encouraged her to bring her obsession with animé and pop culture into her art, making it a source of inspiration. "She showed me that I could bring the experience of these games and the people who love them to a broader audience."
Courtesy of the artist
Madelyn Covey's "C3PO," watercolor on wallpaper, 2017.
Madelyn Covey's paintings on wallpaper represent cosplayers, people who gather at roleplaying conventions and dress up in costumes based on superheroes from pop culture. These small, precisely rendered full-length portraits are made from photographs Covey takes of fans at cosplayer conventions like Comic-Con.
In these intensely worked small paintings, characters from the TV show
Sherlock
mingle with ones from
Dr. Who
and
Sailor Moon
, a Japanese manga series from the 1990s. Flocked wallpaper in dusty pinks and silvers serves as a painting support, evoking the banalities and comforts of a upbringing in the American suburbs of that period. It's more than enough to suggest the homely settings (rec rooms, garages, basements) in which many of these DIY costumes must have been made.
The cosplayers Covey paints appear to delight in conceiving characters that exist as a form of fan fiction. Their costumes are homemade and unorthodox. Many make characters their own by mashing up elements of well-known superhero costumes with signifiers of personal ethnic or gender identity. The superhero figures depicted here include a black Wonder Woman and a Muslim Doctor in a headscarf.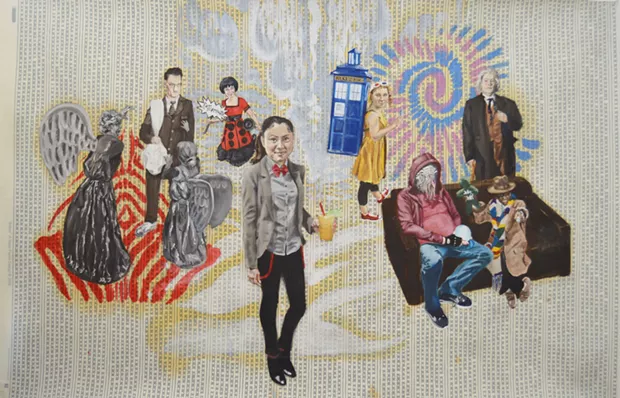 Courtesy of the artist
Madelyn Covey's "Doctor Who Tableau," oil on wallpaper, 2017.
"A lot of superheroes in mainstream culture are white, male and straight," Covey said. "So cosplay becomes a chance for people to embody heroes they relate to, but then transform these heroes into something closer to themselves — diversifying who can be seen as hero."
The artist wondered aloud whether audiences in 2018 might be primed to enjoy superhero stories where the forces of good and evil are clear-cut and easy to distinguish, as friends come together to triumph against overwhelming odds.
"The underlying theme is escapism," Covey mused. "Things in the world are terrible right now and people feel so powerless. There are many reasons why it's so inviting to get lost in stories like these … about people joining together to fight against evil, saving the world with their intelligence and their teamwork."
Courtesy of the artist
Katy Warner's "Murder of Miho," silkscreen mounted on wood, 2018.
Fandom is a place of fantasy and refuge: The magical schoolgirls and intergalactic warriors of "Sailor Moon," like the collaged concubines in "Genji's Harem," are buoyed by a sense of possibility and collective agency that a lot of 21st century Americans perceive to have slipped from their grasp.
Larkspur / Cosplay
will be at the Sanctuary, 1301 J St. in Arcata, through Sept. 6. More information at https://www.sanctuaryarcata.org.