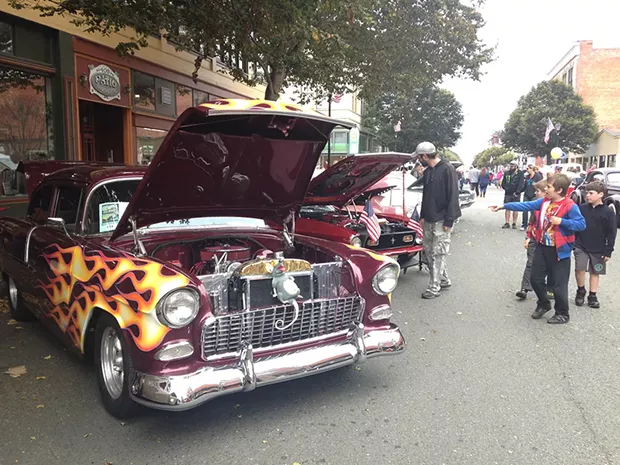 File
Cruz'n Eureka
It's the quarter-century anniversary of an event for the quarter-mile loving set. Yes, it's been 25 years since the first Cruz'n Eureka rumbled to life. The benefit for Boys & Girls Club of the Redwoods arrives in style Sept. 6-8 in Old Town.
The good times roll Thursday, Sept. 6 with the event kick-off Poker Run starting at 6 p.m. at the Wharfinger Building and (don't blink) ending up at the Vista Del Mar at 7:30 p.m. for the VDM Show & Shine in the parking lot with live music on the risers from Ghost Train, a raffle, vendors and more (free). On Friday, Sept. 7 swing by the Show & Shine at Eureka NAPA from 11 a.m. to 3 p.m. for more classic cars (free).
Later, there's a participant-only Ice Breaker BBQ at Boys & Girls Club Teen Center from 4 to 6 p.m. and the Friday night main event for everyone, the Cruz' thru Old Town from 6 to 7 p.m. After the cruise, say hello to the cars parked in front of the Eureka Theater before sliding on your Ray-Bans for the high-octane hilarity of The Blues Brothers (1980) — packed with So. Many. Car. Chases. and musical cameos — showing at 7:30 p.m. ($5). Don't even "Think!" about missing Aretha Franklin in this one. Rest in splendor, queen. Saturday, Sept. 8 take a few laps around the Car Show, Street Fair, raffle and swap meet starting at Second and C streets (free). Check out the fenders and vendors from 10 a.m. to 4 p.m., with trophies bestowed at 3 p.m. and after, make a pit stop at the Harvey Harper Car Museum to join Humboldt County Historical Society for wine, beer, finger foods and a tour and open house from 4 to 7 p.m. ($30 per couple, $15 individual). End the perfect car weekend at Samoa Drag Strip for the Saturday Night Street Legal Drags at 6 p.m. (free to race, free to watch).