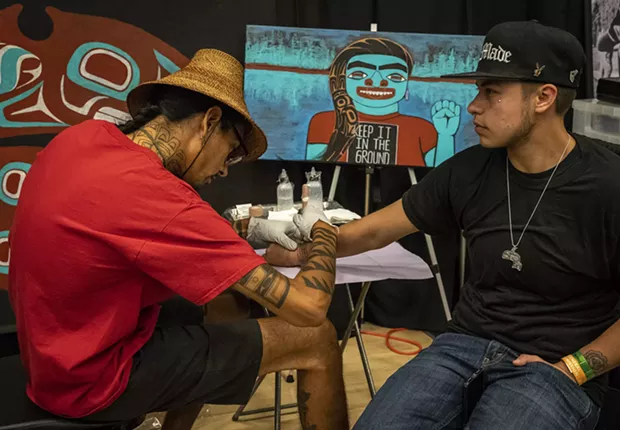 Photo by Mark Larson
Nahaan (left), of Seattle, focuses on the design style of Northwest Pacific Coast practices, designs and customs of ceremonial tattooing.
Needing a break from the North Country Fair late Saturday afternoon and looking for an opportunity to renew my interest in our daughter's profession as a tattoo artist, I headed south to the first (promising to be annual) Native Ink Tattoo Expo event at the Bear River Casino Resort. The event ran Friday through Sunday.
The all-ages tattoo expo in the large rec center building hosted a few local and several national tattoo artists who were busy with bookings on Saturday, along with a few cannabis-related, art and clothing vendors. See the slideshow below for highlights of the day.
I was distracted from looking at tattoo flash and a few examples of "Native ink" by watching the Captain's Side Show and the new-to-me aerial-suspensions performances — a form of body modification that involves hanging a human body by hooks attached to ropes that is considered a therapeutic experience by some. (Warning: While not bloody, images of suspension, which appear at the end of the slideshow, freak some folks out.)
A large crowd arrived in the early evening for the tattoo competition and the sit-down live music by Matisyahu. Saturday's tattoo contest categories included color, black and gray, traditional, best skull, most unusual, best movie character and best Native American. Another minor disappointment in terms of handing out the awards was that only Best of Show and Best of Day tattoos needed to be finished on site.
I hope future Native Ink events include more Native American cultural events that and they change the skull-wearing-war bonnet logo to a logo using Northern California Native American artwork.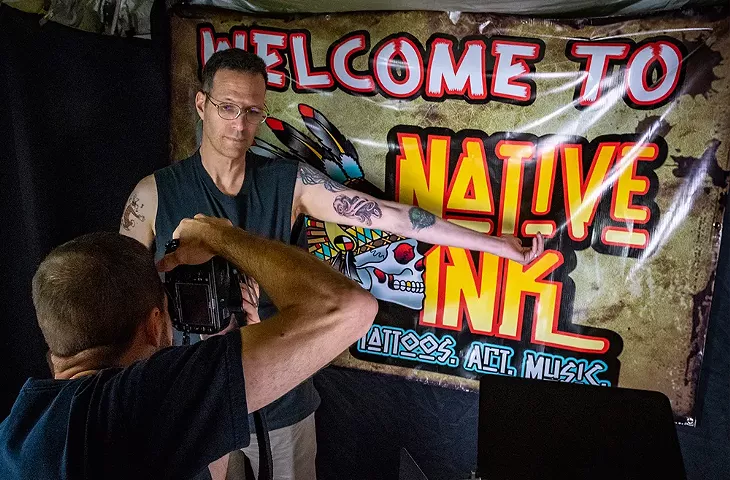 23 slides