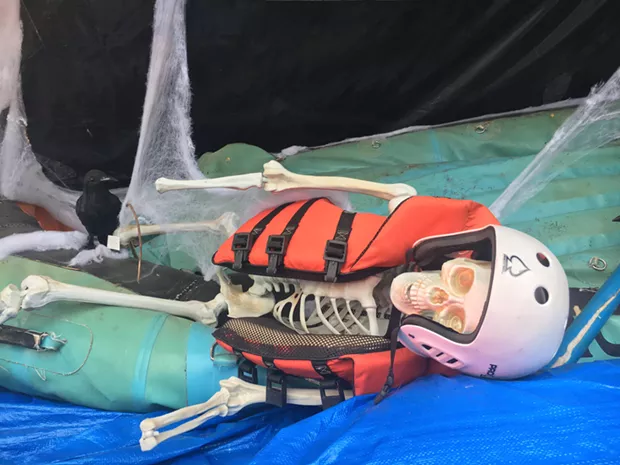 Photo by Jennifer Fumiko Cahill
An unfortunate adventurer at the Ultimate Fright Fest haunted house.
"Oh, great! My scare-ninjas are here," A man I'm hoping is named Micah says. "So you'll hear Olmec talk, and then the lyrist will give her little speech and I want you to follow them upstairs and jump scare them when they're in the heavens. Does that make sense?"
"Not really," my friend Dexter and I say.

"Ah, I'll just show you. We gotta get you a beer anyways."

Such was my introduction to volunteering at the Ultimate Fright Fest! at Forever Found in the Loheide Building. Apparently you can't scare people if you're thirsty. For eight hours over two days, I stalked people through this phantasmagoric Yucatan spookfest and tried to make them pee their pants (one did).

I got the call Sunday evening. A couple of volunteers had dropped out, so my friend Anthony, who helped design and build the haunted house, called upon Dexter and myself. After some griping and grumbling, we decided to flex our charity and raced out to Eureka.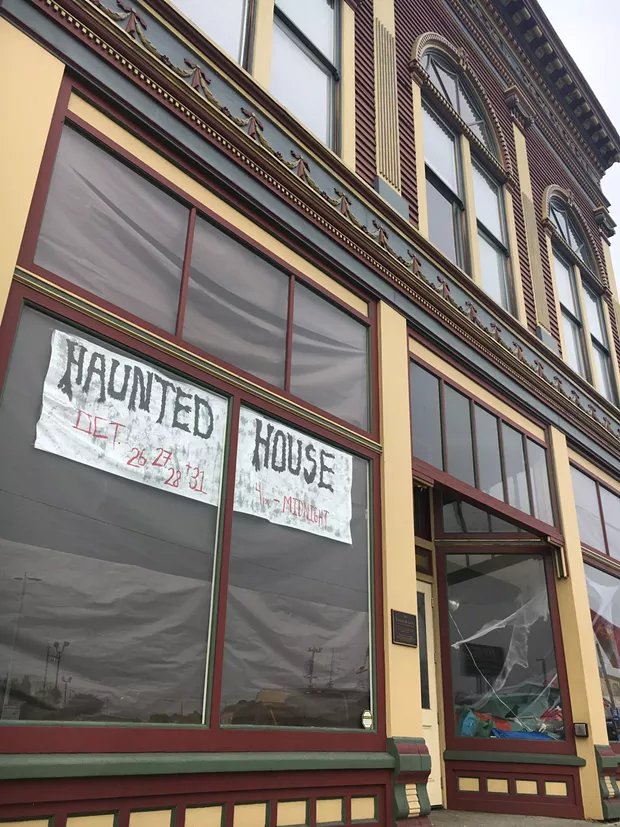 Photo by Jennifer Fumiko Cahill
The blacked out windows of the Loheide Building.
The Loheide is a historic, two-story revival building on Fifth Street. It's painted a beautiful brick red with yellow and turquoise trim, and it houses two massive ballrooms and apartments. But once you step inside, all that washes away and you are transported to a forested riverbank in the Yucatan peninsula where a rafting trip has gone horribly awry. A young woman has lost her sister and to get her back you must traverse the deadly jungle. Jaguars, spider deities and a mighty and terrible shaman all lie in wait for you.

I love a good haunted house. There's something so strangely relaxing about getting the bejesus scared out of you — but in a safe way — and willingly traversing a place where behind literally every corner there is something or someone ready to pounce. Plenty of people agree with me. The aforementioned pants-peer couldn't stop laughing at herself except to scream (and maybe re-soil herself).

But the funniest people (forgive me) are the ones who've been dragged there by someone like me or Pee Pants. The people who, for whatever reason, lack the ability to remove themselves from their fright. They can't keep a safe mental distance from the scares. They're terrified.

One woman, barely as her tour began, shrieked at a minor scare and loudly proclaimed "I do not want to be here! And nothing better touch me!" Her fear was so palpable it became contagious and infected her whole group to the point that the guide got scared once or twice. I'm fairly sure I made her fall down, though I cannot confirm it.

The haunting began on Oct. 26 and was set to close yesterday, on Halloween. However, with the Day of Dead keeping the mood going, the organizers have decided to extend the show Friday and Saturday, Nov. 2 and 3 from 7 p.m. until midnight. If you go, hold off on too many liquids beforehand.