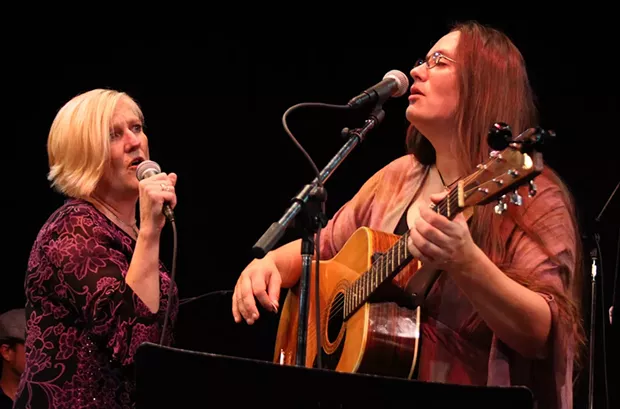 Photo by Bob Doran
Jan Bramlett and Morgan Corviday.
All I Want is to celebrate the music and life of the legendary Joni Mitchell at the seventh annual Joni Mitchell Tribute Show. Performed at the Arcata Playhouse by a group of talented and passionate Humboldt singers and musicians, this two-part concert covers a diverse selection of the Grammy Award-winning artist's work. Jan Bramlett, Morgan Corviday, Marla Joy, Marcia Mendels, Mike LaBolle, Chris Manspeaker, Violet Dinning, Julie Froblom, Tina Garsen, Leslie Quinn, Beverly Twist and Joel Sonenshein all lend their talents to the tribute.
The music plays Fri., Nov. 2 and Sat., Nov. 3 from 8-10 p.m. There's no need to take a Big Yellow Taxi, the venue is a nearby favorite, the Arcata Playhouse. If you've got an Urge for Going, tickets are at Wildberries in Arcata, The Works in Eureka or online at www.brownpapertickets.com. It's a good idea to get them soon — this show sells out every year. Attendees are also encouraged to bring canned or non-perishable food for those in need, which will be donated to Food for People. ($15). Joni, we've all got A Case of You.