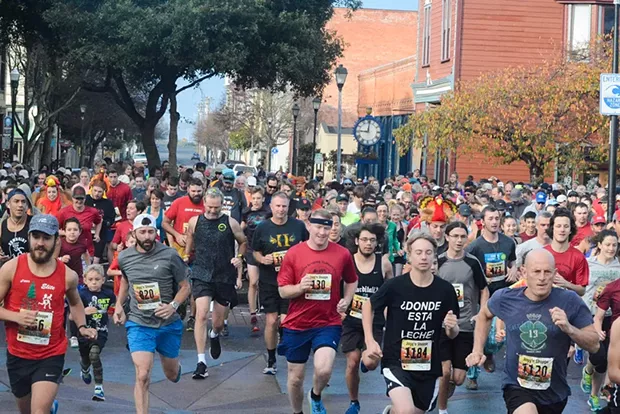 Photo courtesy of Six Rivers Running Club
Joggn'N Shoppe Turkey Trot
Football, Butterball, Hardball. Your family has its Thanksgiving traditions. Before you get all about that baste this turkey day, spend some time with your community.
Feeling plucky? Start the day off with the Jogg'N Shoppe Turkey Trot, Thursday, Nov. 22 at 9 a.m. starting at Old Town Gazebo ($20 with shirt, $10 without). Registration on race day will be at Old Town Coffee & Chocolates.
Walk, don't run, at the Arcata Marsh and Wildlife Sanctuary Interpretive Center on Thursday, Nov. 22 during the annual Thanksgiving Day Walk (free). Meet leader Jane Wilson on the porch of the interpretive center at 10 a.m. for the 90-minute walk on the wild side.
The annual Trinidad Blessing of the Fleet takes place Thursday, Nov. 22 at 10 a.m. at the Harbor Overlook at Trinity and Edwards streets (free). At this special event, the local fishing fleet and kayakers give thanks and receive a blessing for the upcoming season.
And while not on Thanksgiving Day, there's something new and exciting for the kids this year at Redwood Acres Fairgrounds. Nature Joe's Thanksgiving Maze Adventure is open for fun Friday, Nov. 23, from 5 to 10 p.m., Saturday, Nov. 24, from 11 a.m. to 7 p.m. and Sunday, Nov. 25 from 11 a.m. to 7 p.m. ($10, $5 kids 5 - 12, free for 4 and under). Kids can explore the maze, and enjoy animal programs and activities. Plus s'mores and hot apple cider. Sweet!