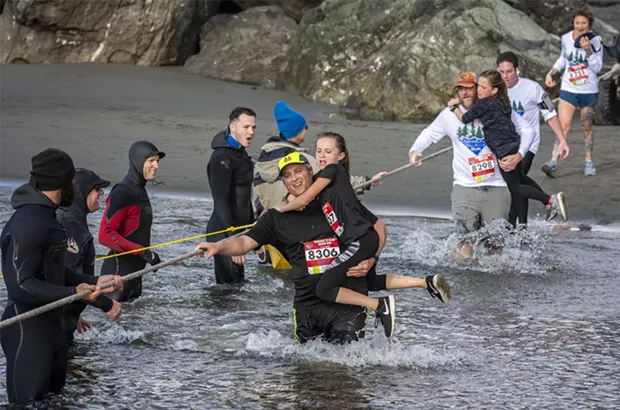 Mark Larson
These two girls used a similar strategy to stay dry in the Little River Crossing, thanks to Bryan Lanning (left) and Geoffrey Phelan.
As the starting time of 12:30 p.m. approached for the 54th annual Trinidad to Clam Beach Run Honoring Ford Hess on Saturday, Feb 2, a rainbow emerged over Trinidad. The weather forecast had predicted continuing rain but the sky cleared nicely just in time for the runners and walkers in the 3-, 5.75- and 8.75-mile events.
Organizers did delay the start of the race by a half hour to allow more time for the Little River water levels to drop as the tide went out. The race features a chilly and wet Little River crossing for the participants, with U.S. Coast Guard and other volunteers present to help ensure safety. The second water entry near the end of the day, and also great fun to watch, is the informal tradition of the HSU Marching Lumberjacks band marching into the ocean surf while singing the tune, "Rubber Ducky." See the slideshow below for highlights of the splashy good times.
The Greater Trinidad Chamber of Commerce sponsors the race as a fundraiser for its scholarship fund. Winners in the 8.75-mile run were: Females – Natalie Chirgwin (1); Payton Osborne (2); Megan Alfi (3); Males – Niko Tutland (1); Jace Hinesly (2); Adam Vera (3). Winners in the 5.75-mile run were: Females – Shawn Sekel (1); Jody Swan (2); Cindy McGihon (3); Males – Austin Nolan(1); Drew Hering (2); Thomas Nolan (3). Full race results can be found at www.trinidadtoclambeach.com.