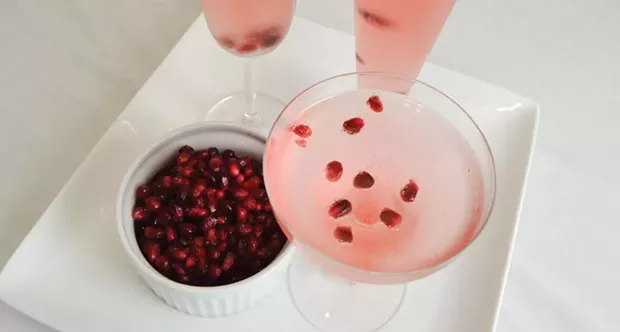 File
The Czarina cocktail.
Valentine's Day is a celebration of love and romance that dates back hundreds of years. Once associated with the martyrdom of various Christian saints, as we well know, it is now one of the biggest grossing holidays of the year, propelled by sneaky, sneaky marketing. For most of us, Valentine's Day is complicated. It can be a shamefest if you're single and, if you're not, you're likely feeling the pressure of gift giving or evening planning for a special someone. It is becoming increasingly difficult to feel like you're doing it right, especially with the ever-growing expectations of social media. Many opt out for personal and political reasons. But if you brave it, whether it's with a partner or a group of friends, here are some tips to make planning a little easier and to keep it local. No sweetheart? No problem. Be your own Valentine. You deserve an ungodly amount of chocolate and
fancypants drinks
.
On a Date:
Start the day off with a hike at
Lady Bird Johnson Grove
. Pack a picnic (be sure to stock up on the sweet stuff at
Kenny's Chocolates
) and pause under the ancient old growth redwoods to share lunch and reflect on what makes things grow. At home, toast your special someone with
homemade red cocktails
.
On an Anti-Valentine's Rampage:
Recently had your heart ripped out? Raging against the corporate machine? How about a delicious recipe for
skewered heart
to metaphorically ease your pain? Still have pent up aggression? Head on over to Redwood Acres Fairgrounds at 7:30 p.m. and watch
Humboldt Roller Derby
's free scrimmage. Nothing will get your mind off Valentine's Day like skaters bashing into each other for fun. After, consider belting your favorite anti-love ballad at Richard's Goat Tavern's weekly
karaoke night
, themed "Love Bites" this week.