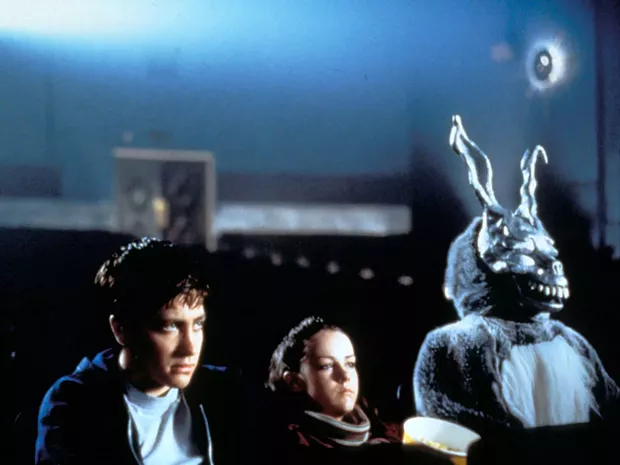 The competition for your Friday night could be a no brainer or a nail biter. Two movies, both beloved, both long gone from their first-run, full-screen heydays, return to larger-than-life glory this weekend — on the same damn night.
In what I'm calling the "Battle of the Double D movies" or "A Tale of Two Swayzes," two films duke it out for your dollar. In this corner, we have the clue-laden, cult classic Donnie Darko (2001) playing Friday, Feb. 22 at 8 p.m. at the Arcata Theatre Lounge ($5). Jake Gyllenhaal plays Donnie, a troubled teen who seeks to understand the disturbing end-of-life events he witnesses, with the help of a 6-foot rabbit only he can see. Hop along, Harvey. Darko's Frank is pretty freaky. Keep an eye out for Patrick Swayze — no spoilers.
If lifting your spirits — and your partners — is more your style, across the bay we've got fan favorite Dirty Dancing (1987) showing Friday, Feb. 22 at 7:30 p.m. at the Eureka Theater ($5). Jennifer Grey and Patrick Swayze star in the romantic drama dance movie set in the 1960s at a Catskills resort. Despite different backgrounds and ages, the two find love in lifting each other higher than they've ever been lifted before. Everybody knows nobody puts Baby in a corner. Except maybe Frank the Rabbit. Choose wisely.
Gyllenhaal or Grey. Sexy Swayze or creepy Swayze. (He's Patrick with the Good Hair in both.) Either way you win.