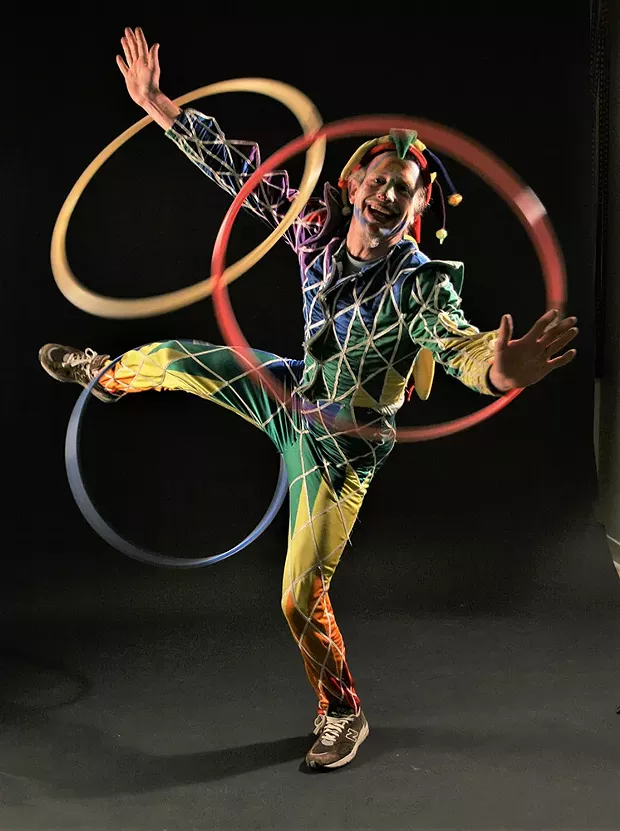 We know the desire to run away with the circus grows stronger by the day. Your chance to learn some of the skills you'll need to fit in under the big top comes to town March 22, 23 and 24, when The Humboldt Juggling Festival returns to Humboldt State University's West Gym with free performances, workshops, games, vendors and more. Experts and amateurs of the field will be on hand to show you a little sleight of hand.
Billed as an "event of extraordinary feats of juggling, sleight of hand, spinning, staff, poi, hooping, rings, whips, wands, clowning, clubs, diabolos, devil sticks, acrobatic yoga, unicycle, comedy, clowning, courage, kindness and cooperation," the festival draws performers and attendees from all over the world.
After learning a few tricks of the trade, come see the magic in action at the Humboldt Juggling Festival Big Public Show. Saturday, March 23 at 7 p.m. at the D Street Neighborhood Center ($15, $12 students w/ID, $5 kids ages 6-10, free for kids 5 and under). This year's show features performers from many walks of the modern circus, juggling and performance communities, with dazzling displays by Circus Luminescence with its glow in the dark, black light magic, Curt Carlyle (of the Curt Show), Chris Kelly (the amazing poi wonder), The Crispy Clowns (partner juggling marvels), Dublevay (physical comedy duo), the BLAR-tastically creative Holly Johnston, Jeremiah Johnston (of the "Throw Zone"), Fiasco & Kitty, local Wizard at Play A'Okay the Clown and returning favorite Kevin Axtell (Inspirational Genius of Fire Drums). The show's fascinating visuals, slapstick, stunts and aerial performances are perfect fun for the whole family.