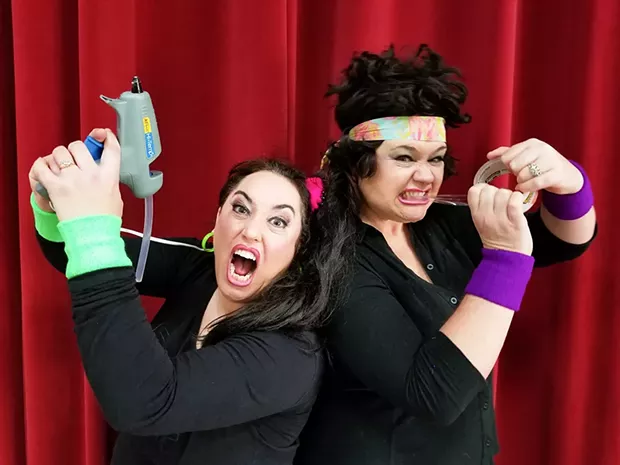 Submitted
Let's Get Physical: The Aerobic Crafters
On your mark, get set, sew! SCRAP Humboldt's sixth annual Rebel Craft Rumble gets underway on Saturday, March 30 at Arcata Playhouse with more glitter, glue and zany ingenuity than you can shake a recycled popsicle stick at.
Doors open at 6:30 p.m. for drinks, schmoozing and silent auction bidding before feathers fly in the first round starting at 7:30 p.m. So what's the deal? Four teams of creative geniuses compete in time challenges to create their cleverest designs constructed from surprise materials and insane set-ups. Improv with a glue gun. Iron Chef with upcycled items. Scrap it up, we'll take it.
Who's who this year? The Beaver Sisters are back, bringing their A-frame game to battle the Fabulous Fabricators, the Forest Futher Muckers and Let's Get Physical: The Aerobic Crafters. Which team will emerge Extreme Ultimate Supreme Craft Masters? That'll be up to judges DJ Mike Dronkers, a "secret guest judge" and the reigning Extreme Ultimate Supreme Craft Masters, R and C Craft Factory. And if all that wasn't enough to ring your bell, local comedian and SCRAP Humboldt's own Dev Richards hosts.
Just $20 gets you in but bring extra cash for food, drinks and to help SCRAP Humboldt raise money for its education programs by bidding on the silent auctions and raffles featuring treats from local businesses. Get your ticket now at SCRAP Humboldt, Wildberries Marketplace and online at www.scraphumboldt.org.