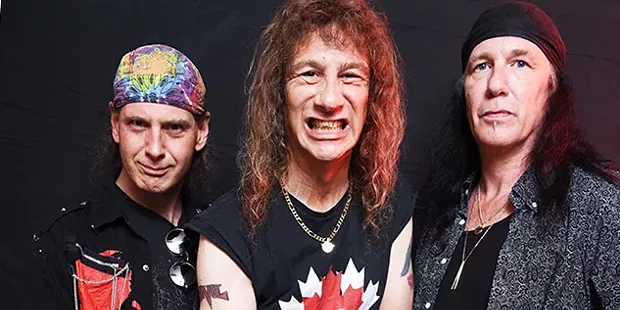 Courtesy of the artists
Anvil plays the Jam at 6:30 p.m. on Monday, April 8.
Anvil is a Canadian metal band that almost made it big but never quite did. The Canadian trio — whose sound nests somewhere between hard rock, power metal and early thrash — was the subject of an acclaimed documentary a decade ago about the barnacle-like resilience of the group and its multi-decade career. Though it might not be a household name, Anvil is a world-class group. Which makes it extra special that the band will be playing the Jam tonight. ($15). Along for the ride are VH1 metal comedian Don Jamieson, Santa Cruz metal act Archer Nation, and local bangers Dullahan. The whole thing kicks off at 6:30 p.m. and to paraphrase Deaner from the Canadian metalhead mockumentary FUBAR, this night is the soundtrack to givin' er.