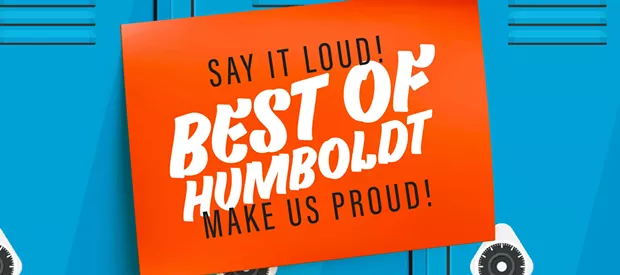 Cast your ballot, have you heard? It's Best of Humboldt – spread the word!
So, like, everyone is talking about it. Yeah, Best of Humboldt — only the biggest event of the whole year. It's not just a popularity contest, you know. The Best of Humboldt award recognizes the people, places and things that totally go above and beyond to make Humboldt County, like, a super amazing place.
Now, the prom committee at the North Coast Journal is tallying the votes – and your voice matters (duh). Who will you crown Humboldt County royalty? #ncjboh19
• Round 1, Nominate: May 1 - May 28, 2019. Nominations accepted for best person, place or business in each category. Once nominations close, we proceed to Round 2.
• Round 2, Vote: June 1 - June 30, 2019 We do the math and find the top three nominees. Then you vote for your favorite out of those three.
Winners will be announced in the North Coast Journal's Aug. 9 edition and celebrated with a party in August!
Um, so how do I vote? Make an account and confirm your email -- it's super quick and easy, pinky promise! Once your account is up and running, you can vote once a day. And FYI, we take Best of Humboldt, like, super seriously. NCJ has installed bots to monitor voting. We will totally remove wrongful nominations and votes.
All the hashtags, all the likes.
If you're a business looking to promote yourself, we have some free and ready-to-use posters and web tiles HERE. Remember to use the northcoastjournal.com/BOH19 URL and #ncjboh19 hashtag in your promotion.
And the winner is …
Not seeing the Ballot below? Sucks for you. Haha, JK. Turn off any ad blockers, update your browser or Javascript, try a different browser, or contact us.