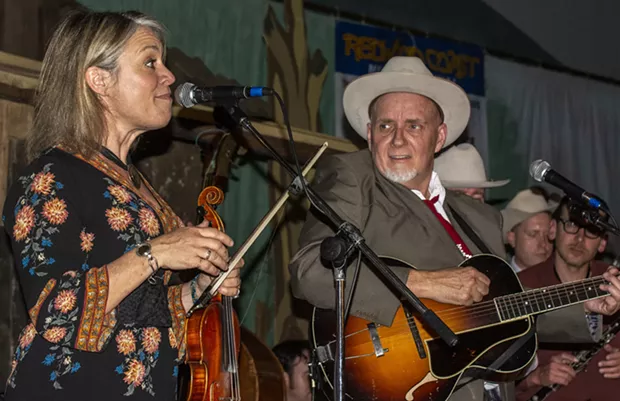 Photo by Mark Larson
Elana James and Dave Stuckey share a moment during the Western Swing All Stars' performance on Friday night at the Adorni Center.
The first 36 hours of the four-day 29th annual Redwood Coast Music Festival in Eureka started off under sunny skies this year, thanks to the change in dates from March to May. Another tradition ended when the Zane Middle School Jazz Band kicked off Thursday's early opening, as director Bruce McKay has retired with this performance. His replacement, Carrie O'Neill, of Eureka, had McKay as her mentor teacher a year ago at Zane Middle School.
This year's festival was dedicated to long-time volunteer and board member Lynn McKenna, of Eureka, and the children's concerts she developed. On Friday morning, fifth-grade students at Grant and Lafayette schools performed at schools and the opening ceremonies on Friday at 1:30 p.m.
The rest of the weekend's music was spread across seven stages with 40 bands and more than 100 sets — and a lot of dancing. Friday evening closed with the Western Swing All Stars with guest Elana James at the Adorni Center and the traditional Blues Night at the Municipal Auditorium highlighted by Rick Estrin & the Nightcats, and guest Little Charlie Baty. See the slideshow below for highlights of the festival's first leg and stay tuned for more photos.
14 slides