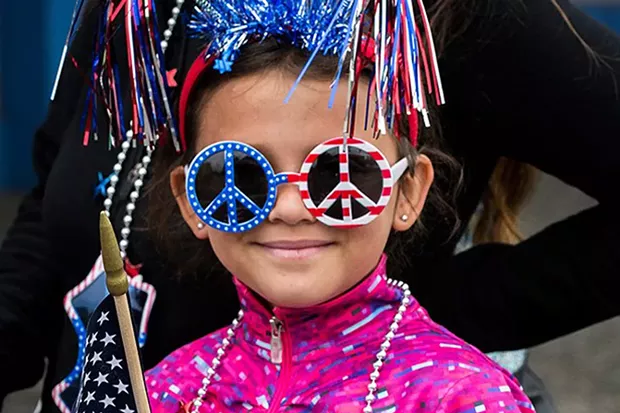 Oh, summer, you sunny season of hot dogs, baseball, swimming at the lake. Sure, Memorial Day kicks it off, but the Fourth of July kicks it in. So, where are things crack-a-lackin'? There are celebrations across the county where you can wave the red, white and blue and wish America a happy birthday. From hometown parades to fireworks over the bay, here's what's hot this Independence Day.
The Arcata Chamber of Commerce puts on a heck of a party at the Arcata Plaza each year during its Fourth of July Jubilee & Bubbles Promenade (free). The fun starts with a bubbles parade starting at (one guess) the Bubbles store at 10 a.m. (the first 100 families receive free bubbles), then parading to the plaza. The fun flows all day (until 5 p.m.) with music from The Undercovers, Lyndsey Battle, Stevie Culture & the Irie Rockers, Conman Bolo and Community African Dance & Drum Arcata. Kids' activities include a premiere skateboarding experience for all ages, kids zone, face painting, bean bag toss, wax hands, performances by the Humboldt Aerial Collective, breakdancing with the Humboldt Rockers, craft booths and Humboldt Crabs Baseball players signing autographs. Save room for all the food and beer/wine booths.
Across the bay in Eureka's historic Old Town, Eureka Main Street's Fourth of July Festival from 10 a.m. to 5 p.m. offers family fun with blocks and blocks of activities, including four stages of live music, food stalls, arts and crafts vendors, kids' activities, boat rides on the Madaket, Old Town carriage rides and Timber Heritage Association speeder crew car rides. Keep an eye out for a photo op with Uncle Sam, who'll be strolling about from 11 a.m to 2 p.m. Over at the Historic Eagle House from 11 a.m. to 11 p.m., enjoy more live music, barbecue, a cake walk, an evening DJ dance party and more.
It's small-town Americana at its finest in Ferndale, when the Fourth of July Parade meanders down Main Street on July 4, starting at 10 a.m. and Ferndale volunteer firefighters celebrate Independence Day with engine rides for kids from 10 a.m. to noon.
Shelter Cove offers up a slew of fun for folks heading over the hill and to the shore. Gyppo Ale Mill is having a Fourth of July Extravaganza from noon to 10 p.m. with live music, contests, vendors and other patriotic events. Over at the Shelter Cove Community Clubhouse, it's the Shelter Cove July Fourth Art and Craft Show from noon to 6 p.m., where local artisans will be selling their wares. Declare your independence from hunger at the Firefighters BBQ and Pioneer Bake Sale, and enjoy a hometown parade in this exquisite beach town.
When you're ready for things that go boom in the night, head to Eureka or Southern Humboldt for the area's two professional fireworks displays (Fortuna does the deal in Newburg Park on July 3).
In Eureka, fireworks start over the bay at 10 p.m. Line up along the boardwalk or along First Street from the Adorni Center to Madaket Plaza for the best views (free). In SoHum, watch the skies light up in Benbow at the Fourth of July Fireworks Show at Benbow Lake State Recreation Area (free to view from Benbow Lake, $8 per car day-use fee).
Finally, Arcata pet owners, don't put away those ThunderShirts just yet. On Saturday, July 6 there will be a fireworks show after the Humboldt Crabs game (usually beginning around 9:30 or 10 p.m.). The booms should only last about 5 to 10 minutes, but don't let the fur fly. Keep 'em inside, safe and secure.