Like any collector, I have my unicorns. Near the top of my list was
Holorusia haspera
, the western giant crane fly. Looking like the biggest mosquito you ever saw, this is an impressive critter. I grew up calling them "mosquito catchers." As a larva, they live near water, feeding on decaying vegetation in the moist soil. As adults, they are not known to feed at all. These fragile creatures resemblance to the pesky little vampires often gets them killed. I hadn't seen one in years.
The day after I received my newest camera, ordered for its impressive focus stacking capability, I noticed one with a nearly 5-inch leg span on my wall. It was very cooperative so I took dozens of shots using every technique I know for the little camera. Yay, for coincidence.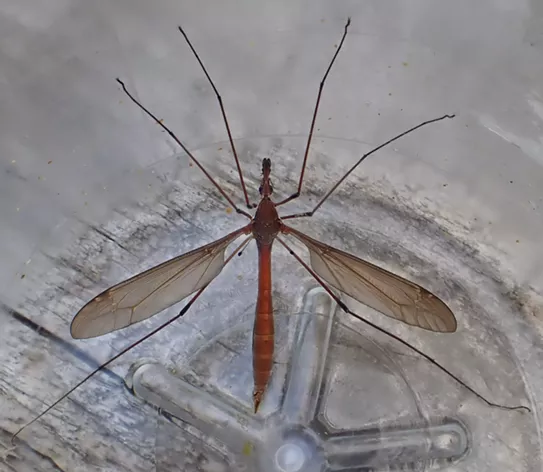 Anthony Westkamper
A giant crane fly with its wings spread to show its abdomen.
Anthony Westkamper
A giant crane fly up close.
Anthony Westkamper
A giant crane fly measures up.
After our photo session, I moved my model outside and let it go. I could have killed and mounted it, but had no reason to. The photos are enough and I hope it goes forth and multiplies.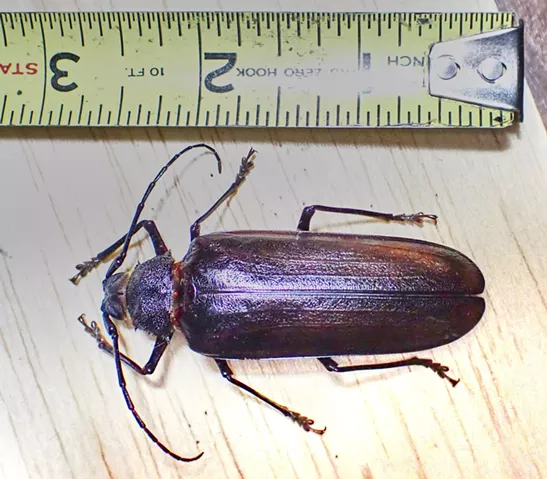 Anthony Westkamper
A California prionus beetle.
On July 18, I found a giant California prionus (
Prionus californicus
) beetle in my local hardware store parking lot. It was on its back and, at first, I thought it was dead. But it moved when I picked it up. This is the largest beetle I know from our area. Its larvae are considered a serious pest, gnawing on the roots of fruit trees and other useful plants. Although as adults they also do not eat, they do carry an impressive set of bolt cutter like mandibles.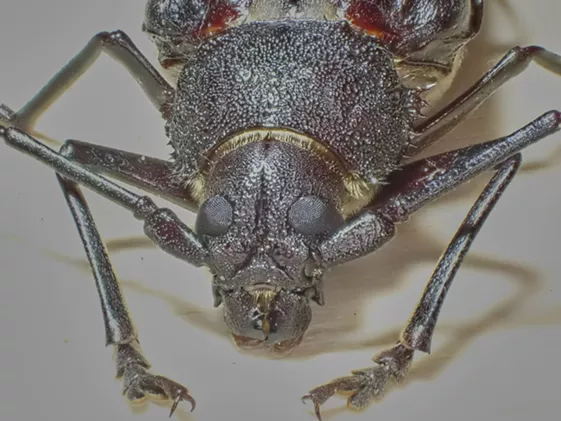 Anthony Westkamper
Mandibles of doom.
Once upon a time, I watched one sever a kitchen matchstick. This one seems nearly dead, probably victim of some insecticide or a run in with a smart car. I will reluctantly add it to the small local collection I keep for grade school presentations.