Last weekend, the San Jose Taiko Swingposium Immersive Theater Experience's On the Road show transformed the Bayside Community Hall into a World War II-era dance hall in a Japanese-American incarceration camp. While under armed guard and having lost their homes, possessions and rights as Americans, those in the camps played music and held dances like these within their barbed-wire confines to maintain a sense of hope and community.
Photo by Mark Larson
Members of San Jose Taiko brought ensemble Japanese drumming to the music/dance/immersive theater/living history event.
The "immersive" part of the show? Audience members and performers mingled and danced throughout the evening within a living-history portrayal of a teenage love story in the camp retold by actors playing prisoners. Music for the three sold-out weekend performances was provided by the taiko drummers and the Humboldt State University Jazz Orchestra. See the slideshow and video below for highlights of the event.
The cast also included roles by local performers and members of Epic Immersive from the Bay Area. A half-hour "talk story" (pre-show panel) with local residents who had been incarcerated along with some 120,000 others, most of whom were American citizens arrested without cause and held for years, in one of the 10 U.S. concentration camps preceded the immersive show.
Taiko is the Japanese word for drums of any origin. In North America, the term has evolved to refer to what's known in Japan as
kumidaiko
(ensemble drumming featuring the Japanese drum). This art form, a variation of centuries-old Japanese drumming, began in Japan in the late 1950s and came to the U.S. in the late 1960s.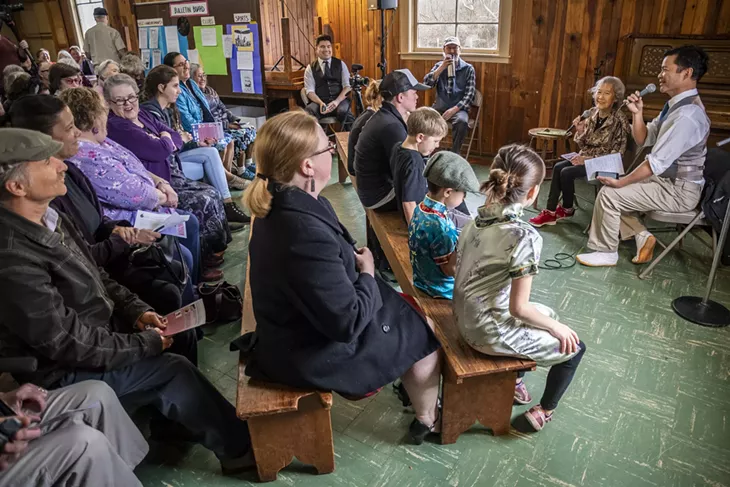 18 slides