The 11th annual Inked Hearts Tattoo Expo wrapped up four days of tattooing last Thursday-Sunday in the Sapphire Palace and Kinetik Lounge at Blue Lake Casino and Hotel. Organizers Ted and Amy Marks, owners of the local Nor Cal Tattoo shop, brought in more than 30 local and visiting artists for on-the-spot "ink" opportunities for tattoo lovers. See the slideshow below for highlights.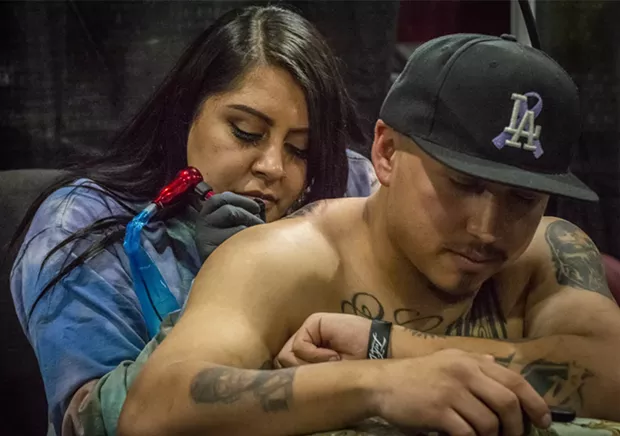 Photo by Mark Larson
Los Angeles-area tattoo artist Isela Vasquez wrapped up a black and gray portrait for "Slowpoke," another tattoo artist from Southern California.
Attendees found more than just tattooing and the usual vendors at this very social event, with Friday's King and Queen of Hearts Beauty contest, Saturday's sushi-eating contest and Sunday's Little Paws Pageant, as well as late evening live music performances next door. Tattoo contests for a mix of tattoo styles and Best of Day were also held Friday through Sunday.