On Saturday, Feb. 29, after a grueling rounds of Q&A, swimsuit, talent and formal wear competition, hosts Johanna Nagan and Andrew Goff crowned a new Mr. Humboldt: Mister Cister. The blue-wigged champion's costume game was strong, with an inflatable Squidward headpiece for the beach, a sparkly white evening gown and a series of layered outfit reveals in the talent portion. See the slideshow below for Mark McKenna's highlights of a night of chainsaws, tattooed lap dances, belly dancing and speedos, all under a near-constant hail of flying undergarments.
It's ... almost safe for work?
Photo by Mark McKenna
Newly crowned Mr. Humboldt winner Mister Cister holds the Big Wood award aloft.
Ultimately, it was the bearded drag queen's singing and dancing performance of "Sweet Transvestite" with an LED whip and rainbow feather boa that brought the house down and won wild scores from the judges (43 out of 10 from Mr. Humboldt 2019). Accepting the crown, Mister Cister encouraged the audience to follow their dreams: "Fuck it. Just go out and do whatever you want to do."
Those judges included KHUM's Midge, Rutabaga Queen G-Ma, 2019 winner Mr. Lumberjack and his mother, Mama Lumberjack, and yours truly. The annual competition and fundraiser also reaped a heap of cash for local nonprofits, including $2,000 for Northcoast Rape Crisis Center, $2,400 for the Northern California Community Blood Bank, $1,000 for the HSU Forestry Club, $800 for Food for People and $500 for Planned Parenthood.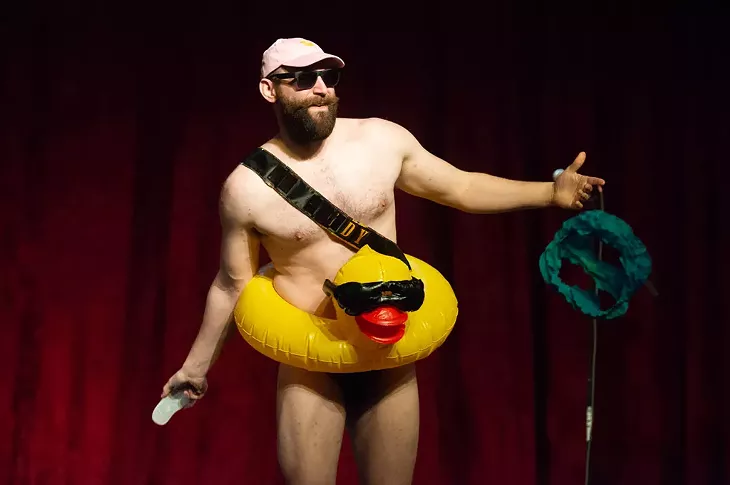 33 slides