Four weeks into sheltering in place, some of you have burned through all the books within reach and are starting to eye the junk mail for entertainment. Before you dive into that sweepstakes letter, review a few more interesting options, including your local library and bookstores.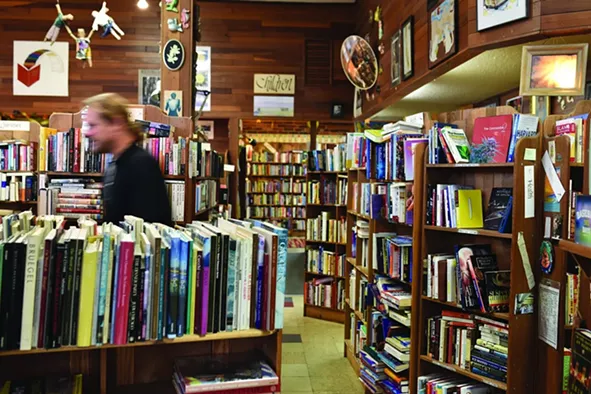 File
The nooks and crannies of Booklegger.
Let's start with the
Humboldt County Library
. Even if you've never set foot inside one of our county's branches, you can get access to all kinds of materials, no library card required. Create an e-account at www.humlib.org using just your name, zip code and an email address and you'll be able to get your virtual mits on e-books, audio books, magazines and databases, even while the library is closed for shelter in place. Click "Connect with a Librarian or Get an e-Account" or call 269-1915 Tuesdays through Saturdays 10 a.m. to 5 p.m. and someone will help you set it up.
Already have a library card? Then you're already set to use your card on the site as well, even if you've got late charges. (Psst. If you've got books due, hold onto them with no penalty while the drop slots are locked up.) Pro tip: The free Libby by Overdrive app is a convenient way to browse, borrow and read all in one place. And if you don't have internet at home, free Wi-Fi is available outside all library locations Tuesdays through Saturdays from 9 a.m. to 9 p.m. Just stay 6 feet from your fellow patrons while you're using it.
Prefer to buy a hard copy? The bad news is book shopping (hoarding is such an ugly word) isn't considered an essential outing. The good news is most of our local booksellers are happy to mail your next escapist read to your door. So you can support a local business while staying home and staying engaged and entertained.
"We notice it takes more than a global pandemic to discourage book lovers from wanting the next thing to read," says Nancy Short, co-owner of
Booklegger
in Eureka. In response, the shop will drop ship new books directly from the distributor and mail some used books. Call 445-1344, email staffbooklegger@suddenlinkmail.com or contact via Facebook messenger.
Around the corner,
Eureka Books
will mail anything in the store anywhere in Humboldt County for no additional charge. Special orders will include a $3 shipping charge, which is a deal compared to leaving your house when you don't actually have to. Staff are answering calls a few hours a day but emailing info@eurekabookshop.com is your most efficient path to that true crime pageturner you've been eyeing.
In McKinleyville,
Blake's Books
offers not only mail delivery but "phone browsing," which has got to be the most patient form of customer service. Owner Courtney Blake is willing to help, especially parents and children who are home-schooling, and teachers who are distance teaching. And, of course, those staying at home who are going bonkers and need a good book to transport them to a better world." So, all of us, basically. You can also email blakesbooks@sbcglobal.net or hit up the shop's Facebook page.
Arcata's
Northtown Book
s has phone hours from noon to 5 p.m. Monday through Saturday, though you can also order through the shop's website www.northtownbooks.com (where you'll find ebooks, too) or email info@northtownbooks.com. Owner Dante DiGenova says, "The support from the community has been amazing so we've been fairly busy." He's hopeful orders will keep the store going until it can open again.
Here's hoping our community and local book sources can keep each other going. If you've got a virtual book club going, or you want to start one that's open to the public, let the
Journal
know and we'll spread the word.