Most of the time when the Bayside Music Collective plays, "It never leaves the building," says Mike Dronkers, who describes it as "an informal group of people who do music with no end goal." The group shifted to remote jamming when shelter in place came down, with Dronkers passing around tracks to which the individual members add.
YouTube
Congressman Jared Huffman in the "Alone Together" video.
But recently, a project that sprung from the group has started making the rounds on social media, including North Coast Congressman Jared Huffman's Twitter account. Twenty-two musicians — Huffman included — living in or with ties to Humboldt collaborated from afar to record "Alone Together" and its accompanying video, a sweet anthem for getting through the COVID-19 pandemic as a community.
"Alone Together" features vocals by Nigella Baur, Dustin Taylor, Lila Nelson, John Elliott, Irie Mae, Craig Woods, Anna Gaines, Chris Berri and John Harper; vocals and guitar by Huffman and Dronkers; guitar by Rahkiv Lewis, Mark Lovelace, Mike Wilson and Bryan Kraus; piano by Jane Williams-Eichensehr; drums by James Forrest; accordion by Jeff Guntle; fiddle by Matt Brunner and steel pan by Deb Waxman. Among those credits you may recognize members of local bands Pan Dulce Steel Pan Orchestra, Irie Mae, Grateful Getdown, Icarus and Sons, Universalia Jane and the Striped Pig Stringband. (Enjoy it in the video below.)
Wilson, the Third District Humboldt County supervisor who sometimes plays with the group, was inspired by an episode of The Daily podcast and started working on "the concept and the chords" of a simple song with his daughter Nigella Baur and John Elliott. "I have a musical past … but it has been a very long time, since I had children, since I did any more than fiddle around and have jam sessions with people," says Wilson. Once Wilson pitched him the idea of a collaborative recording, Dronkers, whose day job is digital communications coordinator for Humboldt State University, ran with it.
Dronkers called in a number of locals and people he'd recorded and played with, among them Lovelace, the former Third District supervisor, who brought in Huffman. Dronkers also hit up Lila Nelson, with whom he'd worked at KHUM years ago.
"When Dronkers approached me with this song, I was like, 'It's cute; I'm busy.' But he persisted," says Nelson. And she is busy: Nelson, who has since moved to Oakland, went into nursing a year ago and works at Berkley's Alta Bates Hospital. That means she's also isolating from her family, including the 7 year old she says she can't hug. "I did not see this coming, OK?" she says with a laugh.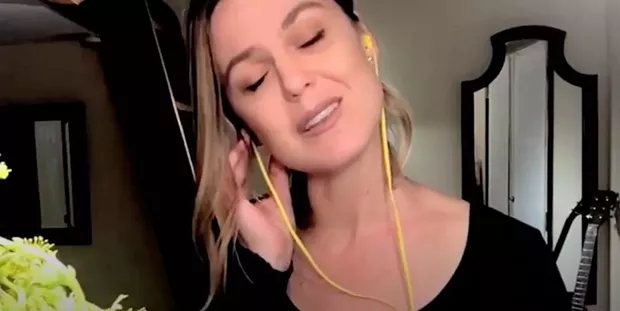 YouTube
Lila Nelson singing on "Alone Together."
"As soon as I sort of saw the bones of that [song] I was like OK, let's do this." Nelson wrote and sings a verse about the heartbreaks unfolding in hospitals. She sways as she sings in the video with a pair of sunny yellow earphones.
Like so many of our interactions of late, the video offers a peek into the homes and studios of its contributors — in place of the bars and stages we're used to seeing as their backgrounds, there are bookcases, houseplants and backyards. It cuts from one solitary figure to the next, each singing into a screen or gazing down at their instrument as they play. It ends with Humboldt's nightly 8 p.m. howl of appreciation for first responders and healthcare workers.
While he plays guitar and sings, Dronkers says his part was mainly technical, gathering and mixing the 49 audio tracks and some 20 videos mostly recorded on the musicians' phones. According to him, it wasn't much of a technical feat.
Nelson calls it "a beautiful testament to how much alone time [Dronkers] and the rest of us must have."
"For me, this is an act of mental health," says Dronkers. "It's a simple act and it's a thing we can do to keep our sanity."