"At this extraordinary moment in time, we believe that the need for art has never been greater," a press release from Humboldt Arts Council, owner and operator of the Morris Graves Museum of Art, states. "We believe in its ability to lift people up, and to give them hope, comfort and strength."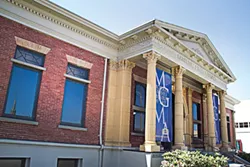 Photo by Terrence McNally
The Morris Graves Museum of Art.
In that spirit, the art museum will reopen to the public on July 22.
According to the release, precautions have been taken "to create a clean, comfortable and enjoyable visit," including hand sanitizing stations placed throughout the museum and a rigorous cleaning schedule. Both staff and visitors are required to wear face masks while inside the art museum.
For more information and a schedule of exhibitions, see the press releases below:
FOR IMMEDIATE RELEASE:

Date: July 1, 2020

Contact: Jemima Harr jemima@humboldtarts.org (707) 442-0278 ext. 205

Headline: The Morris Graves Museum of Art is Re-opening!

Re-opening Date: July 8, 2020

Museum Hours: Wednesday - Sunday 12 p.m. - 5 p.m.

The Humboldt Arts Council is pleased to announce the reopening of the Morris Graves Museum of Art. For 20 years the Morris Graves Museum of Art has been welcoming visitors from around the world into our galleries and sculpture garden to experience firsthand the beauty and power of art. At this extraordinary moment in time, we believe that the need for art has never been greater. We believe in its ability to lift people up, and to give them hope, comfort and strength. We are looking forward to welcoming you back to the MGMA and are taking numerous precautions to create a clean, comfortable and enjoyable visit.

"Our reopening is the result of weeks of behind-the-scenes work to guarantee the safety of your visit – and to ensure we meet or exceed every single guideline from the Centers of Disease Control, the State of California and the County of Humboldt," HAC Executive Director Jemima Harr said in a statement. The following guidelines will be enforced to ensure the safety of staff, volunteers and museum visitors:

· Face coverings are required for staff and visitors

· Social distancing will be enforced

· Museum attendance will be limited

· Hand sanitization stations throughout the museum

· Increased hourly sanitization schedule for all public areas and surfaces

· All public programming including Arts Alive has been suspended at this time

The MGMA will be open for HAC Members only from July 8th through 19th, Wed through Sunday, Noon to 5 p.m. During this time all new memberships will be 50% off to welcome new members into the HAC family. Annual memberships start at $15 and the popular Circle of 100 Membership, which is part of the North American Reciprocal Museum (NARM) Association, is only $50. The Circle of 100 Membership offers reciprocal benefits to the network of 1,178 art museums and galleries, historical museums and societies, botanical gardens, children's museums, zoos and more across North America.

On July 22nd the MGMA will open to the general public.

The Morris Graves Museum of Art, located at 636 F Street, Eureka is open to the public noon-5p.m., Wednesday through Sunday. Admission is $5 for adults; $2 for seniors (age 65 and over), military veterans, and students with ID; children 17 and under free; Families with an EBT Card and valid ID receive free admission through the Museums for All initiative, Museum members are free.

# # #